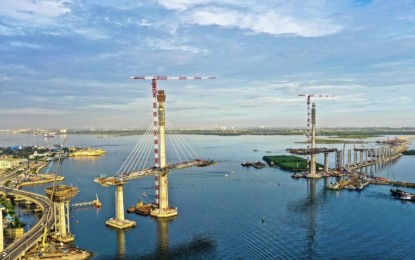 CEBU CITY – The two main bridge pylons of the 8.5-kilometer Cebu-Cordova Link Expressway (CCLEX) have been completed.
"We finished over the weekend the concreting of the pylon on the side of Cebu City," Cebu-Cordova Link Expressway Corp. (CCLEC) said in a construction update on Wednesday.
The company said Tower 1 has reached its final height at 145 meters, which means the two main bridge pylons are now finished.
Installation of the cross on top of the pylons of the CCLEX's main bridge had already started.
A 40-meter cross visible on four sides of Tower 1 symbolizes Cebu's significant role as the cradle of Christianity. The country marks this year the 500th anniversary of the arrival in the Philippines of the Spanish armada led by explorer Ferdinand Magellan.
Last month, the construction of Tower 2 on the side of Cordova town was completed.
Joey Bondoc, senior research manager at Colliers Philippines, said the third bridge, which is expected to be completed later this year, is one of the biggest infrastructure projects that will further drive Cebu's economic growth.
Once completed, the PHP30-billion bridge is projected to boost economic activity in Metro Cebu's south area, as well as bring economic opportunities to the coastal town of Cordova located in Mactan Island.
The project aims to connect Cebu City to Mactan Island through Cordova.
The third bridge will ease congestion on Marcelo Fernan Bridge and the Mandaue-Mactan Bridge, which both connect Mactan with Cebu Island.
CCLEC is a subsidiary of Metro Pacific Tollways Corp., which is the tollways unit of infrastructure conglomerate Metro Pacific Investments Corp.
CCLEC is undertaking the bridge project under a joint venture agreement with Cebu City and Cordova, a municipality to the south of Mactan.
Aside from the third bridge, major infrastructure projects coming to Cebu include the Bus Rapid Transit expected to start partial operations this year; the 73.8-kilometer Metro Cebu Expressway scheduled for completion in 2022; and the New Cebu International Container Port projected to be completed in 2025. (PNA)