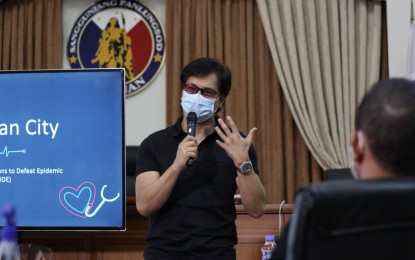 MANILA – The Metro Manila Council (MMC), composed of Metro Manila mayors and national government officials, has voted to support the proposed shift to the less restrictive modified general community quarantine (MGCQ) in Metro Manila.
"Ang karamihan po ng alkalde ng kalakhang maynila ay bumoto na MGCQ na po ang magiging posisyon nila pagdating sa Metro Manila (Most of the mayors in Metro Manila voted for having MGCQ as their position in Metro Manila)," Metropolitan Manila Development Authority (MMDA) chairman Benjamin "Benhur" Abalos Jr. said in a press conference on Thursday.
This, he said, will be sent to the Inter-Agency Task Force for the Management of Emerging Infectious Diseases (IATF-EID) and to President Rodrigo R. Duterte who will make the final decision on whether to implement eased quarantine restrictions by March 1.
He declined to provide the actual number of votes the proposal received but said that all Metro Manila mayors will support the decision.
"Ang pinag-usapan ng mga mayor na hanggat maaari, kung ano polisiya ng is a -- mapa-curfew, MGCQ, lahat -- ay sa lahat na, so uniform kahit maliit na lugar ka o malaki ka (What the mayors talked about is as much as possible, what the policy for one -- whether on curfew, MGCQ, and all others -- is the same for all, so it's uniform regardless of whether they're big or small areas)," Abalos said.
Those who voted against easing quarantine restrictions to MGCQ, he said, were trying to avoid another spike in Covid-19 cases that drained the resources of local government units.
"You can't blame them talagang medyo halos naubos na ho ang pera ng LGU and they can't afford na magkaroon ng another lockdown (because the money of LGUs have almost run out and they can't afford to have another lockdown)," Abalos said.
He said easing the region's quarantine status to MGCQ will promote economic activity through the gradual easing of restrictions.
"Slowly, gawin natin, i-open up natin, dahan-dahan, tignan natin kung maganda (Slowly, we will open up and we'll see if things are still good)," he said.
He said the MMC's recent proposal to lower the minimum age of those allowed outside from 18 to 15 years old with maximum allowable age still at 65 years old will also affect the region's economic recovery, noting that the minimum age may further lessen if cases of Covid-19 do not spike during the period.
On Wednesday, the OCTA Research Group warned that a shift to MGCQ would place Metro Manila under a "constant" threat of a surge of Covid-19 infections, noting that new infections could number as much as 2,400 a day, same as the rate of infection in August last year.
On Monday, the IATF-EID proposed the reopening of arcades, cinemas, and lowering age restrictions, with the MMC voting to defer the reopening of cinemas due to health concerns. (PNA)