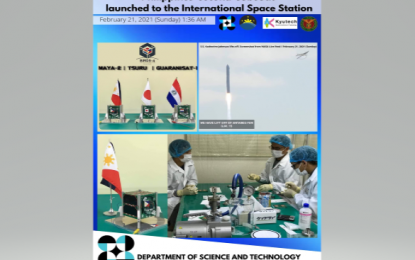 MANILA – The country's nanosatellite, Maya-2, was successfully launched to the International Space Station (ISS) early Sunday, Department of Science and Technology (DOST) Secretary Fortunato de la Peña said.
De la Peña said it was launched together with the nanosatellites of Japan and Paraguay at the National Aeronautics and Space Administration (NASA) Station in Virginia, United States through the S.S. Katherine Johnson Cygnus spacecraft at 1:36 a.m. (Philippine time).
"The DOST is very proud of this achievement. Since DOST started the Philippine Space Technology Development Program in 2014, we have already sent orbiting into space two microsatellites -- Diwata-1 and Diwata-2, and the nanosatellite, Maya-1. Maya-2 will soon be deployed from the ISS," de la Peña said in a Viber message.
The program will now transition into the leadership of the newly established Philippine Space Agency, he added.
"All of us should be proud of the fast progress that the Philippines has made in this area considering that we started only in 2014. There are many aspects of governance which will be assisted by space technologies," he said.
Launched in 2018, Maya-1 contains an Automatic Packet Radio Service Digipeater which can communicate with ham radios. It also carries two cameras that have a wide-angle and narrow-angle lens to capture images and videos for research purposes.
Maya-2, on the other hand, has additional experimental payloads, such as different antenna design and other materials used for the solar panels of a cube satellite.
This nanosatellite will collect data, and is equipped with a camera for image and video capture, an Automatic Packet Reporting System Message Digipeater (APRS-DP), attitude determination and control units for active attitude stabilization and control demonstrations, Perovskite solar cells and Latchup-detection chip, de la Peña said.
DOST's Advanced Science & Technology Institute (ASTI) and the University of the Philippines Diliman's Electrical and Electronics Engineering Institute, Institute of Environmental Science and Meteorology, Department of Geodetic Engineering and the National Institute of Physics, have been the implementers of these satellite development projects with assistance from three Japanese Universities, Hokkaido University, Tohoku University and Kyushu Institute of Technology.
The succeeding microsatellites Diwata-3 and Diwata-4 and succeeding nanosatellites are now in various stages of development, de la Peña said. (PNA)