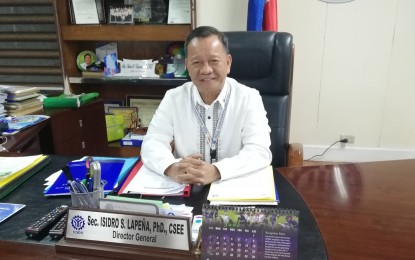 MANILA – Technical Education and Skills Development Authority (TESDA) Secretary Isidro Lapeña on Sunday thanked Globe Telecom for offering another communication assistance to the agency.
This, after the Globe recently provided TESDA with 917 pieces of prepaid load cards worth PHP500 each.
Lapeña said the prepaid cards will be used by TESDA-National Capital Region and the Central Office to reach out to TESDA's clients, including overseas Filipino workers.
"We will use these to call the OFWs who registered at TESDA's OFWs help desks at the airports, to re-offer training. We will ask if they have already enrolled. We will verify their locations so we can properly endorse them to appropriate TESDA provincial offices for assistance," he said in an interview with the Philippine News Agency.
Located in different international airports of the country, the OFWs desk serves as an avenue for TESDA to answer their queries as well as encourage them to avail of TESDA's training or scholarships.
In 2019, Lapeña said TESDA also received Globe cell cards intended for the National Inspectorate for Scholarship Program (NISP).
He said verification work entails a lot of communication and this has been expanded to contact the OFWs, and to monitor enterprise-based programs.
"TESDA is thankful to Globe for extending this kind of support to us. Helping the returning OFWs, especially during this difficult time, can be a shared responsibility of both the public and private sector. This would complement and strengthen our 'TESDA Abot Lahat ang OFWs' program," he said.
Lapeña earlier said TESDA has reached out to Globe to provide its subscribers with free access to the agency's online courses.
The firm heeded TESDA's request, enabling subscribers to access TESDA Online Program (TOP) via the website, www.e-tesda.gov.ph, even without a load, and without incurring any data charges.
The free access, however, does not cover the materials, courses, and other resources that may be accessed through links outside the TOP's website, such as videos uploaded on video-sharing platforms, courses, and links by partners and other organizations.
Meanwhile, Globe also helps businesses to continuously communicate with their clients, by providing them with cloud solutions. Its enterprise arm, Globe Business recently partnered with business process outsourcing firm, MDS Call Solutions Inc., for the latter's Amazon Web Services (AWS) cloud migration and SMS application programming interface integration. (PNA)