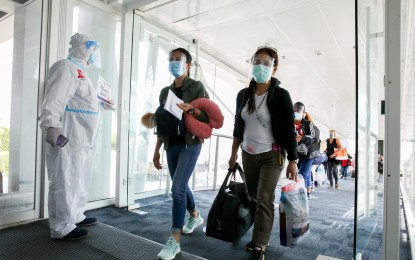 MANILA – The government is asking two host countries to provide vaccines against coronavirus disease (Covid-19) for overseas Filipino workers (OFWs) as part of the agreement in relation to the deployment of health service workers, particularly nurses.
International Labor Affairs Bureau (ILAB) Director Alice Visperas said Department of Labor and Employment (DOLE) Secretary Silvestre Bello III has requested the United Kingdom and Germany to provide vaccines for Filipinos displaced by the pandemic before the country sends medical workers to the two European nations.
"Secretary Bello's request is for our OFWs, these are the OFWs that were repatriated, who are here in the country including those who will be deployed. It is important, especially those who are set to leave since many countries who are hiring migrant workers want workers that have been vaccinated," Visperas said in a virtual forum on Monday.
The country has two bilateral agreements with the United Kingdom in 2002 and 2003. Visperas said these agreements should be revisited and renewed to further safeguard the welfare of Filipino workers.
"Also, Secretary Bello requested for their government to give us vaccines especially for our OFWs," Visperas said.
Both UK and Germany are seeking to be exempted from the 5,000 cap on the deployment of nurses being implemented by the government to ensure there is an adequate number of nurses in the country in case the need arises.
Asked if the DOLE would have a decision this week on the request of the host countries, Visperas said: "It will depend on their answer to the request of Sec. Bello. We are waiting for the decision of their governments. But, according to the Secretary, he is considering to grant the cap [exemption] if they will give in to our conditions."
"The request regarding the vaccine is also applicable to Germany," she added.
The estimated number of OFWs to benefit once the two countries grant the request is around 600,000, Visperas said.
"There is no specific number yet but our estimate is more than 600,000 OFWs who are in the country and going abroad. I think around that number, what we are going to request," she added. (PNA)