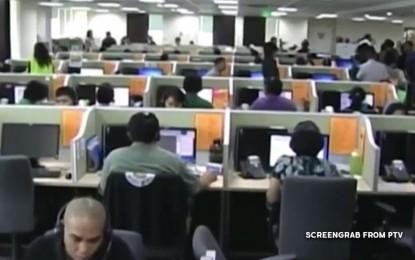 CEBU CITY – More than 1,000 job vacancies will be made available in an online job fair that the Public Service Employment Office (PESO) here is conducting on Feb. 24 in time for the Cebu City Charter Day celebration.
The online job fair, which is hosted by PESO-Cebu City, will be conducted using the virtual Trabaho, Negosyo at Kabuhayan (TNK) job fair system of the Department of Labor and Employment (DOLE).
"This is actually the formal launching and test run of our virtual job fair system at the PESO level. We have been challenging the PESOs really to explore conducting the online job fair at their respective LGUs (local government units) being one of the norms now as we have embarked on the so-called new normal," DOLE-7 regional director Salome Siaton said in a statement on Tuesday.
There are six local employers joining the job fair, which mostly offer positions in the business process outsourcing (BPO) industry. Customer and technical service representatives are the most in-demand positions, followed by various positions in the construction and food industries.
Jobseekers are encouraged to take advantage of said virtual job fair.
Interested applicants should go to www.dole7tnk.com and click REGISTER NOW and then select APPLICANT Register. The registration form must be submitted right after it is filled out. A confirmation message with the corresponding Log-in Credentials must be checked at the applicants' registered email. Then, one should go back to the website after and then click LOG-IN.
"There are so many things that we have to unlearn to pave the way for new learning. Learning the new way to apply for a job these days is very vital since the DOLE and the PESOs are now strengthening the use of technology in the delivery of the Employment Facilitation Program through having the conduct of virtual job fairs a regular activity," she said.
The DOLE regional office first introduced the virtual TNK job fair in December last year. With PESO-Cebu City being the first PESO adopting the system, Siaton is optimistic that other PESOs will also consider into giving the system a try.
"We also enjoin all jobseekers to register now and visit www.dole7tnk.com as the virtual job fair is only good for one day. So, on Wednesday, the DOLE and PESO-Cebu City will join in the celebration of the Cebu City Charter Day, by bringing job opportunities closer to them whereby they can apply for jobs within the confines and safety of their homes," Siaton said. (PNA)