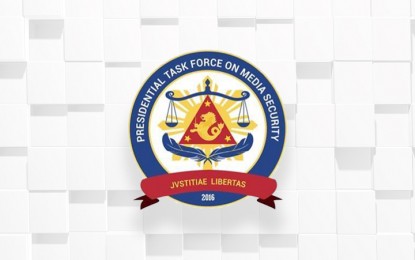 MANILA – The Presidential Task Force on Media Security (PTFoMS) has announced the recent arrest of Richard Posas Bolastig, one of the suspected gunmen in the murder of journalist Dennis Denora, with the active involvement of the Davao del Norte Police Provincial Office.
In a report submitted to Malacañang by Lt. Col. Verna Cabuhat, acting chief of police of Panabo City Police Station, police operatives were able to serve a court-issued warrant of arrest against Bolastig on Feb. 22 for the murder of Denora as earlier directed by the Task Force.
Bolastig is now detained at the Tagum City Jail awaiting trial.
"This is proof of the government's unwavering commitment to bring to justice all perpetrators of media killings in the country. I commend the men and women of the PNP for capturing this most wanted criminal. We will not rest until all those responsible for the murder of Dennis Denora are brought to justice," PTFoMS co-chairman and Presidential Communications Operations Office Secretary Martin Andanar said in a news release on Wednesday.
Meanwhile, Undersecretary Joel Sy Egco, executive director of PTFoMS, said the arrest of Bolastig is a validation of President Rodrigo R. Duterte's unbroken promise to end the plague of violence against media workers by bringing perpetrators behind bars.
"We assure our media workers that the so-called culture of impunity in the Philippines has finally ended with the creation of the Task Force by President Duterte. PTFoMS is living proof of the government's pledge to safeguard press freedom," Egco said.
Denora, the publisher of Trends and Times, a community paper based in Davao del Norte, was killed by two gunmen in an ambush in Panabo City last June 7, 2018, one of whom was said to be Bolastig.
Earlier, a murder charge has been filed against Bolastig and another unidentified cohort in 2019 for the killing of Denora under Criminal Case no. 425-2019. The case is pending at Branch 4 of the Regional Trial Court of Panabo City presided by Judge Carmel Gil Grado.
The only one in existence in the world, PTFoMS was created by Duterte in 2016 with a dedicated mandate to resolve all media killings in the country.
Egco earlier declared that in just four years, the country has achieved another world's first by so far resolving 50 cases of media killings with the conviction of accused Leonardo Banaag Jr. for the murder of broadcaster Jovelito Agustin.
This brings to 67 the total number of suspects that were found guilty by the courts for the killing of journalists, with sentences ranging from reclusion temporal to life imprisonment. (PR)