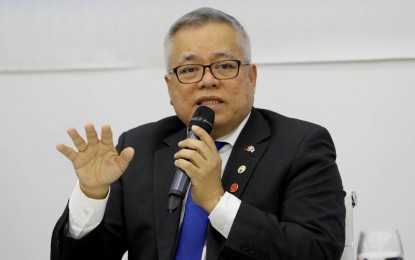 MANILA – Department of Trade and Industry (DTI) Secretary Ramon Lopez has reiterated the agency's support to local cooperatives as it helps the agriculture sector and micro, small and medium enterprises (MSMEs) survive amid the coronavirus disease 2019 (Covid-19).
At the launch of the Agricultural Cooperative Development Agenda (ACDA) Wednesday, Lopez underscored the role of cooperatives in bringing inclusive growth at the grassroots level and their crucial part in helping the government in dealing with economic challenges brought by the pandemic.
"We reiterate our commitment to fully support our cooperatives who have been integral to the government's efforts to deal with the economic and health challenges of the Covid-19 pandemic," he said.
Lopez said the DTI has several initiatives that can help cooperatives in providing support for MSMEs in the agriculture sector, such as the Covid-19 Assistance to Restart Enterprises (CARES) program, Livelihood Seeding Program–Negosyo Serbisyo sa Barangay (LSP-NSB) program, and shared services facilities (SSFs) program, among others.
Under the CARES program, DTI's financing arm Small Business (SB) Corp. can lend zero-interest loans to cooperatives to help them continue their businesses amid the pandemic.
The DTI chief said that as of February 19, SB Corp. has released some PHP2.21 billion loans under the CARES program.
The LSP-NSB program also provides business advisory assistance and services to MSMEs that were affected by natural and human-induced calamities.
DTI's SSF program, on the other hand, provides MSMEs with machinery, equipment, tools, and systems, among others, under a shared system to improve their competitiveness.
DTI provides these facilities through cooperatives.
Moreover, Lopez said that as part of the whole-of-government approach in developing the country's agriculture sector, the Board of Investments (BOI) listed agribusiness under the 2020 Investment Priorities Plan.
The BOI offers incentives to attract more agribusiness projects in the country.
"Thus, even as we thank our cooperatives for being our strong partner in fostering inclusive growth, we call on them to maximize the available opportunities to further their development. We hope that you will continually work with us in the modernization of the agriculture sector, especially through agribusiness, so that all our countrymen can achieve a more comfortable and higher quality of life as promised by the President," Lopez said. (PNA)