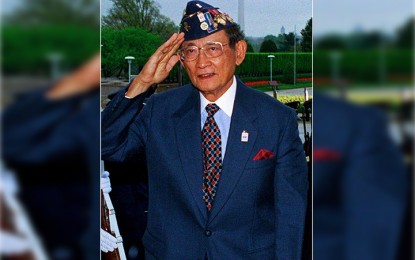 MANILA – On the eve of the 35th anniversary of the 1986 People Power Revolution, former president Fidel V. Ramos cited the importance of unity to contain the challenges facing the country.
The 92-year-old former leader, one of the key players during the four-day historic bloodless uprising that ousted former strongman Ferdinand Marcos, has been in self-quarantine in his home in Ayala, Alabang since the outbreak of Covid-19.
"The challenge we face now is to keep ablaze the flame of nationalism and continue to embody the unparalleled spirit of the People Power Revolution," Ramos said in a message sent to the media Wednesday.
Ramos said the 1986 EDSA Revolution remains resplendent moment for it represents the best of Filipinos.
"We made history thirty-five years ago today where more than one million Filipinos gathered peacefully to oust a dictatorship through a bloodless revolt, We call it then as we call it now, the People Power Revolution," said Ramos, who is also known as FVR.
More than one million Filipinos from all walks of life gathered along Epifanio delos Santos Avenue (EDSA) in Quezon City on Feb. 22-25, 1986, calling for Marcos to step down after ruling the country for 20 years.
The people stayed along EDSA in spite of the presence of fully armed soldiers loyal to Marcos.
For four days, the over a million people stood their ground when countless of loyalist soldiers defected to the camp of then Defense Minister Juan Ponce Enrile and then general Ramos, who held their ground at Camp Crame in Quezon City and ready to confront the government forces loyal to Marcos.
Ramos was then the chief of the then Philippine Constabulary (PC) and now the Philippine National Police (PNP).
Streams of soldiers defected to the side of the Enrile-Ramos, forcing Marcos to flee from Malacañan Palace and fled to Hawaii aboard a plane provided by the United States on Feb. 25, 1986.
The crowd at EDSA and the whole country erupted in euphoria when it was announced that Marcos and his family had left the country.
Congress installed Corazon C. Aquino as the new president of the Philippines in place of Marcos.
Ramos recalled that "the world stood in awe as it witnessed Filipinos united in courage and determination, in selfless offering of life and fortune to restore our democracy, our rights, and our freedom."
"This was our opportunity to make things right, to do things right, for what we hold in hearts as true and just. We were the beacon of hope, the prided of our race, the muse of the community of nations. We owe generations after us the true story of EDSA 1986 and bequeath the legacy of the spirit that carried us through those fateful days and beyond," he said.
Ramos, who will celebrate his 93rd birthday next month, said: "Our nation's destiny remains uncertain, but her history is evidence that we always succeed in achieving our shared aspirations when we work together."
"The revolution is not over and the work remains unfinished until every Filipino enjoys the freedoms and rights embodied in our Constitution." (PNA)