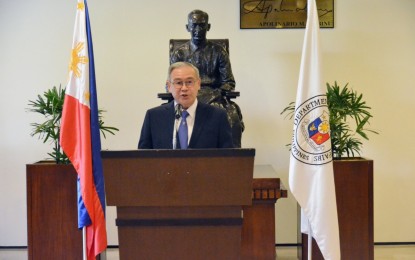 MANILA - The Department of Foreign Affairs' (DFA) directive on foreign government funding would not affect "legit" non-government organizations (NGO) in the Philippines, Foreign Affairs Secretary Teodoro Locsin Jr. said on Wednesday.
"It doesn't affect legit NGOs. It is how responsible government monitors where money comes from and goes to in the face of insurgent and terrorist-secessionist threats. It should encourage funding from the well-meaning to know their generosity is not misdirected to evil," he said on Twitter.
Locsin was referring to Note Verbale No. 2021-0592 dated Feb. 5, 2021, which notifies all accredited diplomatic missions in the Philippines that all foreign government funding for Philippine NGOs, "regardless of the mode of disbursement, transfer, or download of funds, shall be coursed through" the agency for "appropriate clearance".
The DFA, in 2019, had previously asked all European states to "clear any and all donations to their NGOs in the Philippines" with them amid reports that foreign organizations have "indirectly and unwittingly partnered" with local groups allegedly linked to the Communist Party of the Philippines-New People's Army (CPP-NPA).
Recently, the DFA also issued an advisory, citing two Anti-Terrorism Council resolutions that designated the CPP-NPA, Islamic State East Asia, Maute Group, Dawlah Islamiya, and other associated organizations as "terrorist groups".
It said, "any financial support that is directly or indirectly extended to these groups by any organization, association, group of persons or individuals shall be dealt with in accordance with existing laws and regulations." (PNA)