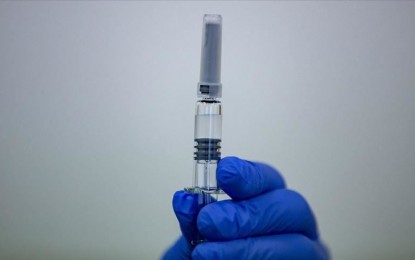 MANILA – The Philippines is only days apart from its Southeast Asian neighbors in kicking off its rollout of Covid-19 vaccines, Malacañang said Thursday.
Presidential Spokesperson Harry Roque insisted that the Philippines is not the last Southeast Asian nation to receive the vaccine supply since the country is only a few days behind its neighbors.
This, after he announced that the Philippines will be receiving its first batch of 600,000 doses of Sinovac Biotech vaccines donated by China to the Philippines on Sunday (Feb. 28), with an expected rollout next week.
"It's a matter of days. De minimis ang tawag diyan (You call that de minimis [about small things]). Yung gap ng pagtanggap natin (The gap of our receipt) compared to other countries it's just days that you can count with one finger. Wala pong malaking ibig sabihin 'yan (It doesn't mean anything big)," he said in a press briefing from Negros Oriental.
He also pointed out that Southeast Asian countries have received the same vaccine brand -- Sinovac -- at almost the same time.
"Halos sabay-sabay po talaga dumating sa'tin at halos pare-pareho po ang dumating sa'tin, Sinovac (It came at almost the same time and the same brand arrived, Sinovac)," he added.
Indonesia was the first Southeast Asian country to begin vaccinations with just over nine million doses being given to frontline workers last month.
Vietnam was the latest Southeast Asian nation to receive its first batch of vaccines on Wednesday (Feb. 24) ahead of the planned rollout of its immunization program next month.
The Philippines aims to secure 148 million doses of Covid-19 vaccines from several companies to inoculate an initial 50 to 70 million Filipinos this year.
Out of the initial 600,000 doses of Sinovac vaccines, 500,000 doses are reserved for frontline healthcare workers while the remaining 100,000 doses will be given to the Department of National Defense (DND).
"Two-hundred fifty-thousand healthcare workers and 50,000 soldiers kasi (because) 100,000 [doses] were donated to the soldiers," he said, noting that vaccines are meant to be given in two doses.
The Food and Drug Administration (FDA) recently cleared Sinovac vaccines for emergency use but did not recommend its use for healthcare workers and senior citizens due to its low efficacy rate.
Roque said frontline medical workers may still receive the Sinovac vaccine as they are first in line in the government's vaccine priority list.
However, he said frontline medical workers who opt for another vaccine brand will not be forced into receiving the China-made vaccines. (PNA)