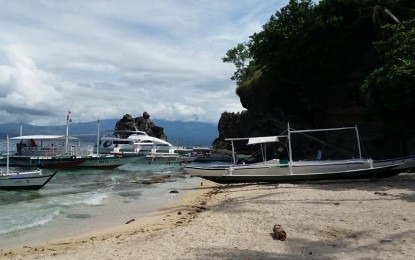 DUMAGUETE CITY – The Department of Tourism (DOT) has set aside PHP11.840 million as monetary assistance for a total of 2,368 workers from the tourism industry sector in Negros Oriental.
Of the total allocation, PHP6.815 million has been disbursed, covering 1,363 beneficiaries from 254 establishments, records showed.
Kenric Villaluz, Labor and Employment Officer of the province, in an interview Friday, said these industry workers lost their jobs or were temporarily displaced at the height of the pandemic when establishments shut down due to strict quarantine restrictions.
He said the beneficiaries received PHP5,000 each under the government's Bayanihan Act 2 to cushion the impact of the coronavirus disease 2019 (Covid-19) health crisis.
The financial aid is funded by the DOT with the Department of Labor and Employment (DOLE) facilitating the beneficiaries' applications under the Covid-19 Adjustment Measure Program II (CAMP II) for DOT-accredited establishments, Villaluz said.
The cash aid is directly given to the qualified and approved beneficiaries through a partner money transfer and remittance company, he said.
Villaluz said 307 establishments in the tourism industry in Negros Oriental are DOT-accredited, including hotels, restaurants, dive shops, and the like.
Meanwhile, Tourism Secretary Bernadette Puyat led a simple awarding ceremony Thursday afternoon in Dumaguete City for some DOT-accredited establishments that were among those who benefitted from the CAMP assistance.
These include the Apo Island Snorkelling Equipment Rental and Guiding Association (ASERGA); Chin Loong Restaurant and Scooby's Snack Bar; Ron Divers, Lavanya Beach and Dive Resort, Inc.; Balinsasayao Twin Lake Farmers' Association, Inc.; Sans Rival Food Development, Inc.; Plaza Maria Luisa Suites Inn; Aviation Ground Handling Services Corporation, Dumaguete Airport; and Valencia Eco-Guide Association. (PNA)