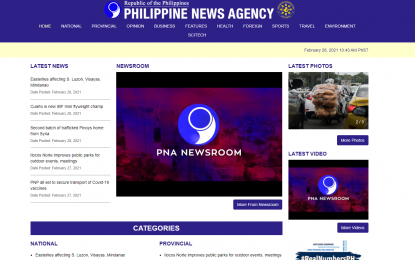 MANILA – There's no stopping state-run Philippine News Agency (PNA) from going beyond the confines of basic news reporting, not even the coronavirus disease 2019 (Covid-19) pandemic.
Forty-eight years after its birth and amid the Covid-19 crisis, PNA serves not only as a news source but also as "healers and hope givers", said News and Information Bureau (NIB) Director Virginia Arcilla-Agtay on Sunday.
"Beyond our primary role as government media, we are healers and hope givers by being purposeful storytellers beyond basic reportage," said Arcilla-Agtay, who supervises PNA, in her message for the 48th founding anniversary of the government's official news wire agency on March 1.
PNA, she said, will do whatever it takes to live up to its crucial role as a "credible and reliable" state news wire service.
"With or without Covid-19, PNA will push to maximize its potential as a credible and reliable government media agency that shall fuel Filipinos' resilience and motivation, whether here and abroad, to be government partners especially in the wake of fighting an invisible enemy," she said.
The PNA news team proved that restrictions imposed amid the Covid-19 pandemic are not a hindrance to providing public real-time updates about current events.
PNA's readership significantly improved to 3,329,468 as of January 2021 from a meager 11,000 when its new website was launched in 2017.
Stories that inspire 'change'
Arcilla-Agtay acknowledged that 2020, three years close to PNA's golden year, took the world upside down due to the pandemic.
"For PNA and all other journalists around the globe, informing the public during uncertain times made the coverage of this pandemic a priority," she added.
She said PNA has weathered the storm of crises such as Covid-19 pandemic by pursuing "stories of survival and happiness" that aim to give hope to its readers.
"Given that the media's role is to give out a complete picture, PNA turns this crisis into something transformative through stories of survival and happiness, resilience…. stories that inspire and aspire," she said. "PNA will always be around for our next purposeful stories … stories that inspire change."
From the onset of Covid-19 pandemic to date, PNA was able to publish around 7,221 Covid-19-related stories.
Resilient
Arcilla-Agtay lauded PNA's resiliency despite the challenges the news wire agency has confronted.
"The ever-changing and sometimes unverified nature of Covid-19 data has left us with challenges in providing accurate information to the public. Although, the burden to properly inform the people has always been one of the duties of the media, PNA included, whether there is a crisis or none," she said.
PNA faced the challenges "with creativeness and resourcefulness."
"PNA, the Philippine government's official news wire agency, has evidently come a long way. From its humble beginnings, it has endured its share of highs and lows attributed to its hard-working editorial and support staff, and a nurturing PCOO," she said.
Improving quality of reporting
She added that PNA, amid the pandemic, was more careful in publishing news stories by making sure these are based on credible and accurate information.
"In the recent months, online platforms were flooded with thousands of information, and countless news. Access to credible information matters the most. During crises and disasters, PNA saw the need to be more cautious about what information to publish," she said.
As PNA marks its 48th year and the pandemic still here, she said it will work to further improve the quality of reporting and this means going beyond the health aspect of the pandemic by connecting the dots to paint a more accurate picture
In a separate statement, PNA Acting Executive Editor Luis Morente assured that the agency is always on standby to help the government raise public awareness on important issues concerning the country, including Covid-19 response efforts.
"Despite limited movement due to health and safety protocols, PNA's 48th anniversary this year is marked by our continuing support to inform the public on the government's whole-of-nation approach to combat the novel coronavirus since the onset of the pandemic last year," he said.
PNA is currently under the supervision of the News and Information Bureau (NIB), an attached agency of the Presidential Communications Operations Office.
Initially launched as a teletype newswire service on March 1, 1973, before it became a web-based newswire service in 2003.
Aside from its Facebook and Twitter pages, the state news agency launched in October 2017 its daily newscast "PNA Newsroom" to expand its reach to a wider audience on social media.
PNA, since its establishment, has been tapped in the substantive coverage of presidential activities and major events in the Philippines.
A major overhaul of PNA's operations has also been made possible during President Rodrigo Duterte's administration. (PNA)