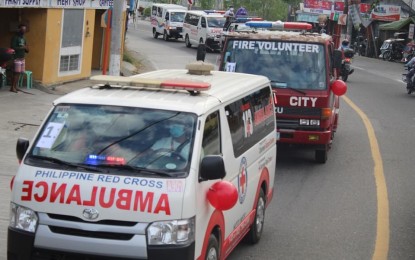 LAOAG CITY – Thousands of vehicles from 21 municipalities and two cities "overran" major thoroughfares in Ilocos Norte on Monday as the Bureau of Fire Protection (BFP), along with other government and non-government entities, joined a motorcade to drumbeat awareness on fire safety and prevention.
Highlighting a united citizenry to prevent fire incidents, provincial fire marshal Floro Obrero said in an interview Monday that each commercial establishment will soon have its own fire brigade.
"The creation of fire brigade is now included in the fire safety checklist for them to be able to renew their business permit," he said.
The Fire Prevention Month is observed by virtue of Presidential Proclamation 115-A, series of 1966, issued by then President Ferdinand E. Marcos.
March was chosen since the country's summer season is statistically the month with the most fire incidences.
As part of the continuing information and education drive on the dangers of destructive fire and ways on how to prevent its occurrence, the BFP has intensified its presence in various social media platforms to reach out to a wider audience.
"We hope that through these activities, we will be able to strengthen the people's preparedness on the hazards of fire," he said.
In Batac City, the local government has purchased a new fire truck and water tanker to improve its capacity to respond in case of emergency incidents.
The fire truck has a capacity of 4,000 liters while the water tanker has a capacity of 6,000 liters.
The newly-acquired equipment were paraded in the city. (PNA)