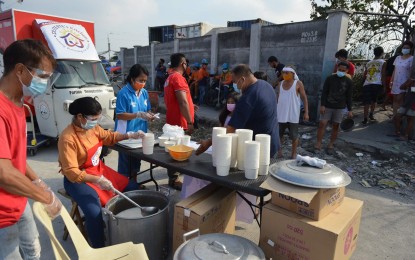 MANILA – Department of Energy (DOE) Secretary Al Cusi urged the public to exercise caution and to be more vigilant as the Fire Prevention Month kicked off on Monday.
"Public safety is paramount, and while the DOE is doing its part by informing the public about safety measures, it is important for everyone to be alert and check on their households for potential fire hazards, especially in the use of electrical appliances and gadgets," Cusi said in a news release on Monday.
He advised residents to check their electrical wiring and avoid improper use of appliances and electronic products to prevent fires.
As the Bureau of Fire Protection (BFP) is set to launch its month-long activities to increase public awareness, Cusi said the DOE is also working double time by providing relevant information to the public with advisories that warn residents to check their appliances like electric fans and air-conditioning units from over use and overheating.
At the same time, the DOE cautions the public from leaving appliances plugged in for long periods especially during the summer season.
"Electrical cords and sockets should also be covered and guarded against children who may be fatally injured from incorrect use," Cusi said.
He said most fires happen in residential areas where the improper use of appliances and the overloading of powerlines are cited as the reason for the fires.
He also reminded the public to checked their liquefied petroleum gas (LPG) tanks to make sure that there are no leaks and are properly maintained.
Last week, Duterte's Kitchen, an outreach program organized by Cusi in 2016, provided 2,000 hot meals to residents of Parola Compound in Tondo, Manila who were rendered homeless due to a fire that razed 500 homes.
The program was done in coordination with the local government officials led by Barangay Kagawad Freddie Amistoso.
The BFP-National Capital Region is still investigating the cause of the fire which reached the fourth alarm before it was put under control on Feb. 22.
Cusi, also vice chairman of the Partido Demokratiko Pilipino–Lakas ng Bayan, said Duterte's Kitchen continues to reach out to indigent communities, especially during the prevailing Covid-19 pandemic.
"Nakahandang magserbisyo ang Duterte's Kitchen sa ating mga mahihirap na mga kababayan, lalong-lalo na sa panahon ng pandemya, tulong-tulong tayo para maibsan ang paghihirap ng ating mga kababayan (Duterte's Kitchen is always ready to serve our poor countrymen, particularly during this pandemic. Let's work together to relieve the hardship of our countrymen," Cusi said. (PR)