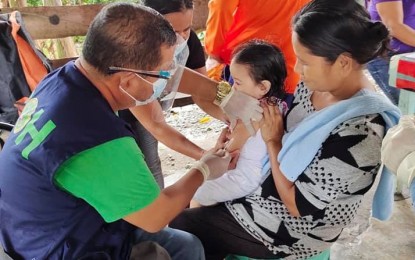 TACLOBAN CITY – The Department of Health (DOH) has extended measles and oral polio vaccination in Eastern Visayas until March 7 as several areas failed to meet the 95 percent coverage.
All the six provinces in the region failed to meet the target population during the month-long vaccination program that kicked off on Feb. 1, DOH Eastern Visayas information officer Jelyn Malibago said in a phone interview Tuesday.
As of Feb. 27, measles-rubella vaccine coverage reached 76.74 percent for children 9 to 59 months old.
For the oral polio vaccine coverage, only 75.25 of children of the same age group were covered.
At least 352,073 children were inoculated with measles-rubella vaccines, while 403,103 children got immunized against polio.
There are still 132,554 children in the region under the target age group that were not covered by the mass vaccination program, according to DOH.
Low coverage has been reported in Northern Samar (68.08 percent), Tacloban City in Leyte (66.75 percent), and Maasin City in Southern Leyte (63.3 percent).
"The most common reason for refusal of parents to subject their children to vaccination is the fear of side effects. Some parents deferred the immunization since their children are mildly sick during the immunization in their areas," Malibago said.
"We have to inform the public that these vaccines have been proven and tested safe and effective for 40 years. These vaccines have saved thousands of children from measles, rubella and polio," she added.
Eastern Visayas is part of the second phase of the nationwide campaign that also include the National Capital Region, Central Luzon, Mimaropa (Mindoro, Marinduque, Romblon, Palawan), Calabarzon (Cavite, Laguna, Batangas, Rizal and Quezon), Cagayan Valley, Western Visayas, and Central Visayas.
The first phase covered some provinces in Luzon and Mindanao.
Measles is one of the most contagious diseases in the world. It is characterized by high-grade fever, rashes, cough, sore eyes, runny nose and can lead to complications such as pneumonia, blindness, severe diarrhea, swelling of the brain, and even death.
Polio, on the other hand, is a potentially debilitating disease that causes fever, neck stiffness, muscle weakness, and can eventually lead to lifelong paralysis.
The DOH said there is no specific treatment for both measles and polio, and the only reliable protection is through vaccination. (PNA)