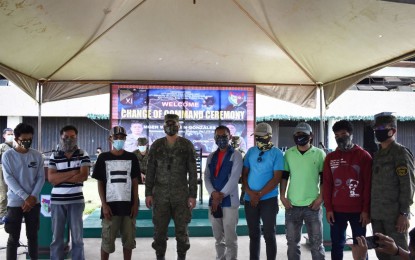 ZAMBOANGA CITY – Seven Abu Sayyaf Group (ASG) bandits have surrendered in Sulu province as the love of family and loss of leadership prompted them to return to the fold of the law.
Maj. Gen. William Gonzales, Joint Task Force (JTF)-Sulu commander, identified the bandits as Jaber Binuri, 35; Jupihar Alih, 25; Hassan Albain, 25; William Janatol, 38; Rajik Alih, 34; Kaisal Maddan, 22; and, Ibin Hapas, 57, who surrendered Wednesday in Sulu.
The bandits also yielded assorted high-powered firearms.
Gonzales said Binuri decided to surrender to be with his two sons -- a three-year-old and a five-month-old baby--following the arrest of his wife, Nudsza Aslun.
Aslun and eight other women were arrested on February 19 for illegal possession of explosives in joint law enforcement operations in Patikul, Sulu.
Aslun earlier told the police that she was a widow since her husband, Jaber, was killed in one of the clashes with government troops.
"Noong nalaman ko na naaresto ang asawa ko, nagpaalam ako kay Ben Wagas na magbakasyon para kunin ko 'yung mga anak namin at dalhin sa Zamboanga. Ang totoo, nakatawag na ako sa kaibigan ko na sundalo na gusto ko na bumaba (When I learned that my wife was arrested, I asked the permission of Ben Wagas (an ASG sub-leader) to go on vacation to fetch my children and bring them to Zamboanga. But the truth is that I was able to call my friend, a soldier and told him I want to surrender)," the JTF-Sulu quoted Binuri as saying.
"Jaber and Nudsza's story is a stark example of how terrorism has put its claws on the integrity of a family. Fortunately, Jaber's duties as a father won over his loyalty to the ASG. I commend his guts for coming forward. I personally assured him that his trust in us will not be put to waste," said Gonzales, who is also the 11th Infantry Division commander.
Binuri revealed he was under the group of slain ASG leader Hatib Hajan Sawadjaan when he joined the ASG in 2013.
When Sawadjaan died, he joined the group of Wagas, an ASG sub-leader.
Lt. Col. Nelicar Corsino, 15th Civil-Military Operations Battalion commander, said that Binuri is still under their custody and undergoing custodial debriefing sessions.
"He is still adjusting. But he is doing well and he's with his three-year-old child," Corsino said
The other ASG bandits have surrendered due to loss of trust and leadership, according to the JTF-Sulu. (PNA)