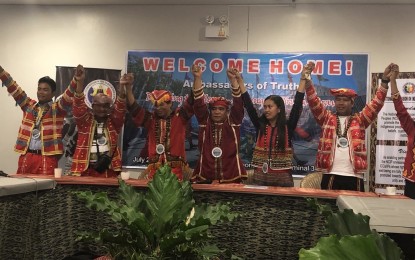 MANILA – The National Commission on Indigenous Peoples (NCIP) issued a resolution denouncing the use of the term "lumad" when referring to Indigenous Cultural Communities (ICC) and different Indigenous Peoples (IPs) groups.
NCIP Resolution 08-009-2021 issued on March 2 stated that the elders, leaders, and members of different ICC/IP groups in Mindanao requested that they not be called "lumad".
They said the term has been widely used even by some government offices and public officials to refer to members of the ICCs/IPs, especially those from Mindanao.
"Lumad" is a Cebuano term that means "native".
It was first adopted by members of the Lumad Mindanao Peoples Federation (LMPF) on June 26, 1986 during its First Congress held in Kidapawan, Cotabato. From then on, it has been used to refer to ICCs and IPs.
IP elders, leaders, and members refused to be called "lumad" because the LPMF, they say, is not the recognized representative of the ICCs and IPs of Mindanao.
As such, it does not represent their collective sentiments.
"'Lumad' is not an indigenous term. Its emergence and continued use (are) marred by its association with the CPP, NDF, and NPA (Communist Party of the Philippines - National Democratic Front - New People's Army) whose ideologies are not consistent with the cultures, practices, and beliefs of ICCs/lPs," the NCIP resolution read.
It further stated that "lumad" is associated with national minorities who are opposed to IPs, and thus weakens the true identities of ethnic communities.
The first congress and the subsequent meetings and activities of the LPMF were initiated and sponsored by the CPP-NPA-NDF and were attended by some IP members of the LPMF, which they said were not composed of genuine elders and leaders.
The NCIP further stated that Datu Lito Omos, who was elected the first secretary-general of the LMPF, attested to it.
The term "lumad" was chosen to control the identification of the lPs under the banners of the CPP-NPA-NDF, according to Omos.
It also hides solicitation activities by insurgents.
The NCIP said using "lumad" to refer to ICCs and IPs in Mindanao is like refusal to recognize their genuine identity and rights.
"The term has no ancestral domain or indigenous territory to speak of and is condescending and derogatory," NCIP Chairperson and Commissioner for Eastern and Southern Mindanao Allen Capuyan said.
With the resolution, the NCIP encouraged all government offices to refrain from using the term "lumad" in their official documents and communications, and the general public as well when referring to IPs.
"The public is enjoined to use the respective ethnolinguistic group or Indigenous Cultural Communities, Indigenous Peoples, Katutubong Pamayanang Kultural or Katutubong Pamayanan when referring to IPs collectively," the resolution read.
The country has 122 IP groups as of December 2019, but "lumad" is not one of them. (PNA)