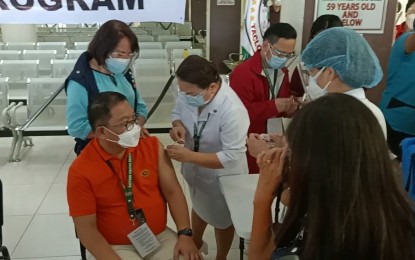 TACLOBAN CITY – The Department of Health (DOH) is targeting to inoculate more than 27,000 healthcare workers in Eastern Visayas region as a top priority in the vaccination rollout.
DOH Regional Director Exuperia Sabalberino said the pace of vaccination among medical front-liners would depend on the volume of vaccines allocated to the region's six provinces.
"The top priority is our hospital workers especially those assigned in facilities that treat Covid-19 patients considering their exposure to the virus. The second priority is the public health workers," Sabalberino said in a phone interview on Monday.
The first batch of 6,900 doses of Sinovac vaccines received by the region last Friday was intended for hospitals in Tacloban City and Palo, Leyte.
"Once we are finished here in Tacloban, our next batch is hospitals in provinces especially those that are catering for Covid-19 patients," Sabalberino added.
On Friday, Sabalberino led the ceremonial vaccination at the Eastern Visayas Regional Medical Center (EVRMC) with the chief of hospital, Dr. Salvador Evardone, as the first recipient in the region.
The EVRMC has 1,327 health workers and 200 service contract workers such as security guards and janitorial service personnel.
The ceremonial vaccination of Evardone is to show health workers of the biggest tertiary hospital in the region that their chief is convinced of the quality and efficacy of the vaccines, Sabalberino said.
"We encourage everyone to get the vaccine because it is safe. It is approved by the FDA (Food and Drug Administration) which means it is safe and good for people ages 18 to 59 years old," Sabalberino added.
As of Monday, Eastern Visayas has recorded 15,813 Covid-19 cases, including 15,220 recoveries and 232 deaths. This brings the total active cases to 361. (PNA)