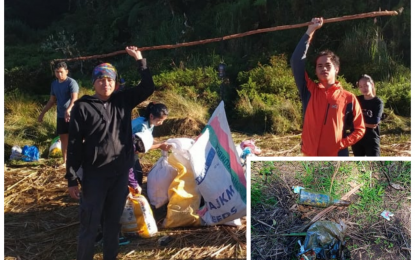 KIDAPAWAN CITY, North Cotabato – Environmentalists and tourism officers, including guides and porters, trekked Mt. Apo, the country's highest peak, and collected almost 200 kilos of garbage over the weekend.
On Monday, Karl Tanaid, Magpet town tourism officer, said about 130 volunteers from mountaineering groups and other organizations climbed Mt. Apo for a cleanup activity.
"We collected mostly emptied plastic bottle water container and other non-biodegradable materials that litter the surroundings of Lake Venado," he said in an interview.
Lake Venado is an endorheic (interior) body of water located along the Mt. Apo trail in the province.
The cleanup trek from Saturday to Sunday was organized by the Department of Natural Resources-North Cotabato and the Mt. Apo National Park Protected Area Management Board, with the support of the local tourism offices of Magpet town and Kidapawan City.
Aside from trash, Tanaid said climbers also removed spray-painted vandalism on large boulders at the peak.
"Every year we see different vandals on huge rocks, this is not right," Kidapawan-based photographer King Bacamante, one of the climbers, said.
Both Tanaid and Bacamante said most of the violators of trek protocols were climbers who used the Sta. Cruz, Digos, and Bansalan trails in Davao Del Sur.
They said the trail had been opened since 2020 due to the pandemic and nobody was regulating the trekkers during climbs to the mountain peak.
Also, the DENR-Davao Region team that went up via the Kapatagan trail noticed the non-observance of guidelines issued by the Inter-Agency Task Force for the Management of Emerging Infectious Diseases on social distancing.
Both Tanaid and Bacamante have urged climbers to observe both the health and environmental protocols to preserve the mountain forests while preventing the spread of Covid-19. (PNA)