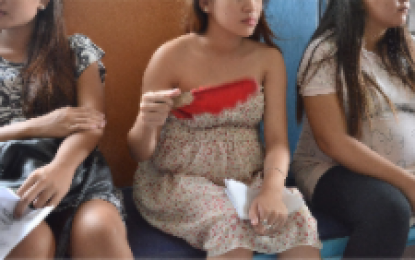 MANILA – As the world celebrates Women's Month this March, the Commission on Population and Development (POPCOM) renewed its call for special protection of Filipino women, especially during the ongoing Covid-19 pandemic.
This, as the POPCOM on Tuesday shared its commissioned survey conducted by the Social Weather Stations (SWS) which showed that one of four adult Filipinos have said harmful acts in various forms are among the most pressing problems of women during the present health crisis.
Eleven percent mentioned physical violence as top-of-mind concern while 14 percent cited sexual violence and emotional violence (7 percent each), the survey said.
In Mindanao, 24 percent of adults shared the same sentiments (11 percent for physical violence, 5 percent for sexual, and 8 percent for emotional), while it was slightly lower in the Visayas at 22 percent (6 percent physical violence, 11 percent sexual, 5 percent emotional).
SWS said it was higher in Manila at 29 percent (13 percent for physical violence, 7 percent sexual, 9 percent emotional) and the rest of Luzon at 28 percent (13 percent for physical violence, 7 percent sexual, 8 percent emotional).
Per accounts of the Philippine National Police in the yearly Responsible Parenthood and Reproductive Health report, there were 19,743 recorded cases of Violence Against Women in 2019, or before the pandemic.
Of the total, 77 percent, or 15,160 cases, were violations under the Anti-Violence Against Women and Children law, or the intimate partner-relationship category.
The rest fell under other forms of Gender-Based Violence, such as rape (2,341 cases), acts of lasciviousness (1,953), concubinage (204), and sexual harassment (85).
Popcom Undersecretary Juan Antonio Perez III said on Tuesday the Philippines leads the global community in championing the causes of women, evidenced by its high worldwide ranking in women empowerment and gender equality.
The World Economic Forum's Global Gender Gap Index places the Philippines at 16th — the only one in Asia in the top 20 — as the country is performing excellently in closing the gender gap when it comes to economic participation and opportunity, educational attainment, health and survival, and political empowerment.
He also revealed that half of his colleagues in the agency's executive roster are women.
"As an agency being looked upon by the national government in promoting women's rights, Popcom will do its best to guarantee their protection, empowerment, and provision of opportunities needed to achieve their utmost in life," he said. (PNA)