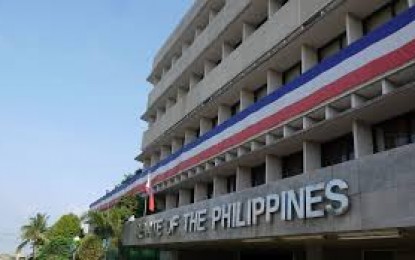 MANILA – The Senate on Tuesday passed on the third and final reading the bill, which will create the provinces of Maguindanao del Norte and Maguindanao del Sur.
House Bill No. 6413, sponsored by Senator Francis Tolentino, chair of the Committee on Local Government, seeks to divide the present Maguindanao province to pave the way for the creation of two provinces.
Tolentino said the measure seeks to accelerate the political, social, and economic development of the new provinces and ensure that government services are more accessible and more responsive to the needs of their respective constituents. From a broader perspective, the creation of more public offices as a consequence of the division will further expand the democratic space for qualified and dedicated public servants to participate in the governance of the provinces.
Once enacted into law, Maguindanao del Norte will be composed of the following towns: Barira, Buldon, Datu Blah Sinsuat, Datu Odin Sinsuat, Kabuntalan, Matanog, Northern Kabuntalan, Parang, North Upi, Sultan Kudarat, Sultan Mastura, and Talitay.
Maguindanao del Sur will consist of Ampatuan, Buluan, Datu Abdulla Sangki, Datu Anggal Midtimbang, Datu Hoffer Ampatuan, Datu Montawal, Datu Paglas, Datu Piang, Datu Salibo, Datu Saudi Ampatuan, Datu Unsay, Gen. Salipada K. Pendatun, Guindulungan, Mamasapano, Mangudadatu, Pagalungan, Paglat, Pandag, Rajah Buayan, Sharif Aguak, Sharif Saydona Mustafa, Sultan sa Barongis, Talayan, and South Upi.
Under the bill, the capital towns and seats of government of the two new provinces will be Datu Odin Sinsuat for Maguindanao del Norte and Buluan for Maguindanao del Sur.
Tolentino noted that Maguindanao has a population of 1,173,933 based on the 2015 official population count of the Philippine Statistics Authority and an estimated average annual regular income of PHP714.56 million as certified by the Bureau of Local Government Finance.
He also said the two proposed provinces likewise comply with the minimum land area requirement of 2,000 km2 (200,000 hectares) as certified by the Land Management Bureau.
Tolentino said Maguindanao is blessed with rich and abundant natural resources. Despite the existence of this vast potential, political and economic barriers persist. The size of the province remains to be a challenge for the provincial government to provide basic services like public health care, education, and transportation to the most remote villages.
In his co-sponsorship speech, Senator Ramon Revilla Jr. said the legislative measure is "an embodiment of the aspiration of our brothers and sisters in Maguindanao to create a new province".
For his part, Senator Joel Villanueva, also a co-sponsor, said he is one with the leaders of Maguindanao in accelerating their economic progress while ensuring lasting peace and stability for their fast-growing population, which is projected to reach 1.4 million in 2023.
Senate President Vicente C. Sotto III, Majority Leader Juan Miguel Zubiri -- who moved for an omnibus amendment for Northern Maguindanao and Southern Maguindanao be renamed to Maguindanao del Norte and Maguindanao del Sur, respectively, -- and Senator Sherwin Gatchalian are also co-sponsors of the bill.
The House of Representatives passed on third reading the said measure on June 1, 2020. (PR)