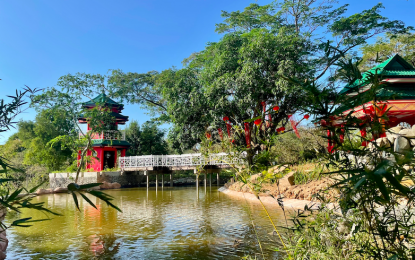 LAOAG CITY – Staying home for a long time to avoid being infected with the coronavirus disease 2019 (Covid-19) has made many individuals bored and stressed out.
With the easing of its border and quarantine protocols, the provincial government opened a Chinese Garden with pavilions, small bridges, and flowing waters that complement the majestic Paoay Lake. It was built next to the Malacañang of the North.
"This is a gift for the people of Ilocos Norte and also a gift to celebrate the 46th anniversary of the establishment of diplomatic relations between China and the Philippines," Consul and Head of Post to Laoag, Zhou Youbin, said in his speech during the unveiling ceremony held on Tuesday afternoon.
Zhou said the Chinese Garden is the "latest manifestation of the friendship between China and Ilocos Norte and it is another sign of cooperation and mutual benefit of China and the Philippines."
Funded by the People's Republic of China, the PHP4-million Chinese Garden in Ilocos Norte took about four years to complete.
The main idea then was to boost outdoor attractions as this could be considered as part of the travel itinerary of tourists visiting the province all year round.
Members of the Filipino-Chinese community here are delighted to have the Chinese Garden as a symbol of hope during a period of darkness due to the pandemic.
Governor Matthew Joseph Manotoc, meanwhile, said he could not thank enough the Filipino-Chinese community and the Chinese government for their all-out support for the province from the beginning up to this time.
"We are very grateful for your undying and perhaps, excessive support of Ilocos Norte. Whenever there is (a) typhoon, whenever there is (a) crisis, you are the first to respond and you respond generously," Manotoc said in his short speech on Tuesday, adding that the Chinese Consulate of Laoag took responsibility for the establishment of the garden and not a single cent from the provincial government was spent for it. (PNA)