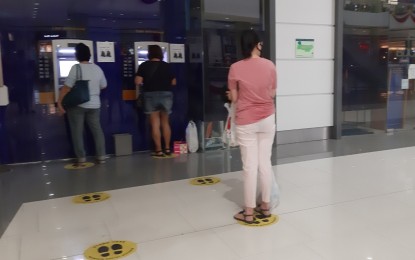 MANILA – A leader of the House of Representatives on Friday urged banks to stop charging higher fees for automated teller machine (ATM) transactions during the coronavirus disease (Covid-19) crisis as they shift to an acquirer-based ATM fee charging method starting April.
In a statement, Deputy Speaker Bernadette Herrera said any increase in fees amid the pandemic is unacceptable.
"We must give workers and hardworking Filipinos the tools they need to recover from the pandemic and that includes making sure they can keep their money in their own pockets and out of the hands of banks to cover unnecessary fees," Herrera said.
The Bangko Sentral ng Pilipinas (BSP), through Monetary Board Resolution No. 1680 dated Dec. 22, 2020, approved the shift from issuer-based to acquirer-based ATM charging model effective Apr. 7, 2021.
Under the new charging model, the bank that owns the ATM will be the one charging a fee for each withdrawal or balance inquiry. At present, the bank that issued the ATM card is charging the fee for each transaction.
ATM withdrawal fees currently range from PHP10 to PHP15, which has been the case since 2013.
Herrera noted that ATM withdrawal fees are expected to range from PHP10 to PHP18 by April, as well as fees imposed for balance inquiry worth PHP1 to PHP2.
"The news that banks are imposing higher withdrawal fees leaves bad taste in the mouth since the pandemic has so much of the county's businesses shut down and millions of Filipinos are out of work," Herrera said.
Herrera said banks should instead be ensuring that people will not be faced with any unnecessary charges that compound their already fragile financial state.
The Bankers Association of the Philippines (BAP) has earlier said BSP's acquirer-based ATM fee policy ensures competition among financial institutions for the benefit of the banking public.
BAP backed the regulator's policy on ATM fees imposed by banks following the lifting of the nearly six-year moratorium for fee adjustments in July 2019.
"We are appreciative of the BSP's move to adopt this pricing philosophy that is market-driven and customer-centered. This policy promotes competition and efficiency in the banks' effort to deliver better services to the banking public," BAP managing director Benjamin Castillo said. (PNA)