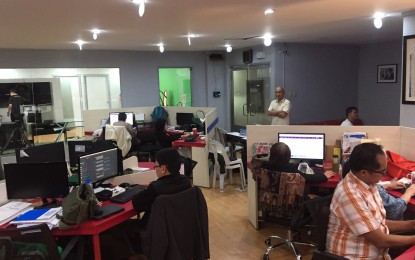 MANILA – Government offices will adopt the new guidelines recently released by the Department of Labor and Employment (DOLE) on the proper ventilation of workplaces and public transport.
"When we are crafting it, the Civil Service Commission is with us and they agreed to use these guidelines for the implementation of proper ventilation in all government offices as well. So yes, even for the public offices, these will be guidelines," Labor Assistant Secretary Ma. Teresita Cucueco said in a Laging Handa briefing on Saturday.
On March 3, Labor Secretary Silvestre Bello III issued Department Order 224-21 that sets new rules on proper ventilation for private establishments and public transport.
The guidelines include the installation and use of exhaust fans in indoor workplaces, restrooms, and water closets; ventilation in air, rail, land, and sea transport; and other measures to improve and maintain the quality of air in the workplace and public transportation.
The order said for air-conditioned spaces and heating, ventilation, and air-conditioning (HVAC) systems, the outdoor air supply should conform to the recommended breathing zone ventilation rates for air dilution and comfort control.
It recommended the use of the ventilation system at least 30 minutes before and after spaces are occupied.
For non-air-conditioned spaces, the DOLE suggested maximizing natural ventilation through the use of doors, windows, and other openings.
If natural ventilation is not feasible or inadequate, mechanical ventilation shall be provided.
Strategies were also recommended for restrooms and water closets, such as making sure that exhaust fans in restroom facilities are functional and operating at full capacity when the building is occupied.
It advised the closure of toilet bowl lids before flushing to minimize the release of droplets into the air.
For public transport, the order said minimum health standards must strictly be followed such as the proper wearing of approved face masks and face shields at all times; proper and frequent disinfection before and after completing a route; a distance of one seat apart for passengers; and use of plastic barriers between passengers, which must also be disinfected after each trip or when necessary.
The guidelines will cover all commercial and industrial establishments, projects, sites, and all other places where work is being undertaken indoors, except health care facilities, which require special considerations or stricter rules in controlling the coronavirus disease 2019. (PNA)