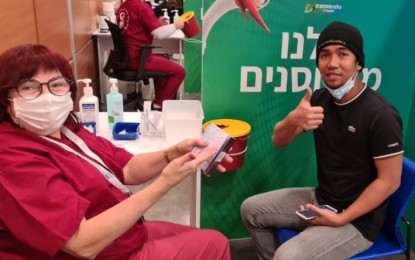 MANILA – Thousands of Filipino caregivers, students, and diplomats in Israel have been vaccinated against coronavirus disease 2019 (Covid-19) for free, the Israel Embassy in Manila reported Wednesday.
The free inoculation is part of the Israeli government's vaccination drive to immunize all residents in the country, regardless of their citizenship status.
Around 5.2 million people have so far been administered with at least one dose of Pfizer's Covid-19 vaccine in Israel, 30,000 of whom are Filipino caregivers and 400 are exchange students.
Filipinos with expired working permits as well as the staff of the Philippine Embassy in Israel also received the free Pfizer shots.
Israel Ambassador to Manila Rafael Harpaz said this free access to vaccines is another way of expressing Israel's gratitude to the overseas Filipino workers, particularly caregivers working in their country.
"Israel is thankful for the Filipino caregivers for helping the elderly and the disabled Israeli citizens during the Covid-19 outbreak. For many years, the Israeli government has been providing the Filipino caregivers with full access to the advanced medical services of our country," he said.
Harpaz added that Israel has been taking "good care" of the Filipino caregivers while citing a 2018 agreement signed during the visit of President Rodrigo Duterte to Israel.
Israel in recent months has also supported the Philippine government in its pandemic response by donating personal protective equipment to the front-liners of the Department of National Defense and the Philippine National Police, and equipment to assist the Department of Education in implementing distance learning.
The Embassy said Israel would continue sharing its experience and knowledge in emergency and Covid-19 response through webinars, courses, and joint meetings. (PNA)