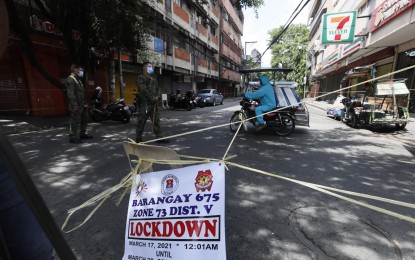 MANILA – The Manila Police District (MPD) has apprehended a total of 1,023 violators of the unified curfew in Metro Manila as of Wednesday.
Manila Public Information Officer Julius Leonen said the figure includes 112 minors and 911 adults.
Meanwhile, Leonen said 12 violators of the granular lockdown in six villages in the city -- Barangays 185, 374, 521, 628, 675, and 847 -- have so far been apprehended.
About 170 police officers and 82 village officials were deployed to man the areas under lockdown from Wednesday until Saturday.
Meanwhile, about 713 others were also arrested in violation of other city ordinances such as smoking in public places, obstruction of justice, and roaming shirtless in public.
Leonen said minors who were arrested were also released but their parents would be penalized.
"May punishment po for parents kapag nakakailang offense na ang anak (Parents will be punished if their minor children committed the offense a number of times)," said Leonen.
City Ordinance 8243 penalizes any person who abandons or exposes a minor or allows said minor to be exposed to a perilous situation that endangers human life, health, or wellbeing.
It states that penalties for those who will be caught violating the ordinance include a fine of PHP2,000 or imprisonment of one month if the minor is 15 to 17 years old.
If the age of the minor is 13 to 14 years old, the fine increases to PHP3,000 or imprisonment of three months.
There will be a fine of PHP5,000 or an imprisonment of six months or both, depending on the discretion of the court, if the minor is only 12 years old and below. (PNA)