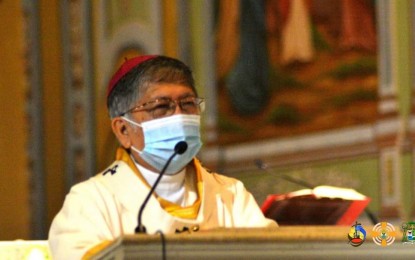 MANILA – Jaro Archbishop Jose Romeo Lazo has been inoculated with the vaccine against coronavirus disease 2019 (Covid-19).
In a Facebook post on Wednesday, the Archdiocese of Jaro Commission on Social Communications said Lazo was vaccinated on Monday.
"Last March 15, 2021, His Grace Most Rev. Jose Romeo O. Lazo, D.D., Archbishop of Jaro, got himself vaccinated with the first dose of AstraZeneca vaccine, as prescribed by physicians," it said.
It added that Lazo got vaccinated to prepare for the successive pastoral activities he will be undertaking in the Archdiocese of Jaro.
In a circular letter, Lazo recently addressed and urged the faithful to be discerning in participating in the vaccination program while thinking of the common good of all.
It also reiterated Lazo's call for bishops to have themselves vaccinated to be able to encourage the faithful to do the same.
"As we can recall, Fr. Nicanor Austriaco, OP addressed the bishops of the Philippines regarding the vaccination program of the government and encouraged them to be vaccinated in order to give the faithful a lead to partake in this program against Covid-19," it added. (PNA)