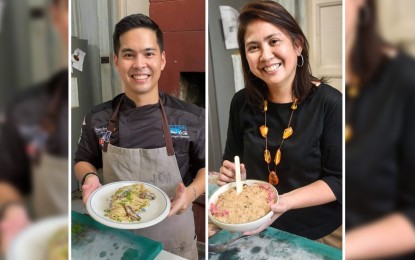 BACOLOD CITY – Two Negrense food experts have created special recipes using ingredients from a well-loved brand for a campaign called "Taste of Negros" launched at the Casa A. Gamboa in Silay City, Negros Occidental on Wednesday afternoon.
Homegrown Victorias Foods Corp. (VFC) partnered with chef Don Angelo Colmenares and foodie Doreen "Reena" Gamboa in coming up with exciting creations using its products such as the Spanish Style Bangus (milkfish), Sardines in Soya Oil, Cooked Ham, and Smoked Bacon to enrich the list of popular Negrense cuisine.
"The movement for supporting Filipino is getting stronger. It has to start with us, Negrenses. We should promote our own. This is literally right here in Negros. It would be nice to campaign first to our fellow Negrenses to appreciate Negros products. When it comes to food, it's not just sugar here," Gamboa said.
During the cookout, the managing director of Casa A. Gamboa came up with the Tortilla de Patata con Jamon con Tocino and the Bangus Dip.
"Since I opened Casa A. Gamboa, part of the excitement is creating something new, creating a menu. That's my bonding with my mom. Being the niece of (noted food writer) Doreen Gamboa-Fernandez, you're also exposed to so much and of course, the influences come in. The idea of Tortilla de Patata came from my experience abroad when I spent a month-long vacation with my friend in Spain. When I thought of the ham and the bacon, it was to add a little something to change its taste," she added.
Gamboa was involved in the publication of two cookbooks, including the "Slow Food Negros Heritage Cooking", and "Adobo Chronicles" which features adobo recipes of celebrities and winners of the annual Adobo Festival in Silay sponsored by the Negros Cultural Foundation.
Meanwhile, Colmenares whipped up the Bangus Empanada and the Pasta di Sarde.
The young chef said the Negrense taste is very unique, even describing it as "not so adventurous and they really stick to what they know or what's familiar".
"It's always the classic taste (that's preferred) in Negros. For the recipes we came up with for Victorias Foods, we thought of making something that is very familiar," he added.
Colmenares said that when it comes to bangus, Negrenses would usually prefer the "relleno style", and would also like something in "empanada style".
"So we merged the two flavors together and came up with a style of empanada, using the bangus coming from Victorias and utilizing the ingredients you can find in a relleno. It's very familiar, easy to appreciate, but still something different," he said.
Colmenares also said it is very easy to think of a recipe using pasta and sardines, but for a twist, he added a lemon squeeze for a refreshing taste and put queso de bola on top, instead of the usual parmesan cheese, to make it more Filipino and more savory as well.
The Negrense chef, who owns the Bacolod-based restaurant Berbeza Bistro est. 2018, studied Culinary Arts at Enderun Colleges and had an apprenticeship at the 2-Michelin Star Moulin de la Gorce, Lemoges in France. (PNA)