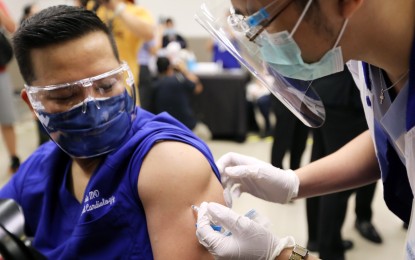 MANILA – An official of the Department of Health (DOH) said Thursday the vaccination against coronavirus disease would continue since there is no reason to suspend the program.
"There is no reason to suspend our vaccination, as first vaccine was not the cause of death of the healthcare worker, and second as DOH and FDA [Food and Drug Administration] continue to emphasize the benefits of vaccination continue to outweigh the risk of us getting Covid, particularly severe Covid-19," DOH Health Promotion Bureau and Disease Prevention and Control Bureau Concurrent Director IV Dr. Beverly Ho said in a media briefing.
Ho was referring to a 47-year-old female healthcare worker who had comorbidities and died on March 13, or nine days after taking a shot of CoronaVac.
After probing the incident, health authorities have concluded that her death was caused by Covid-19 itself and not the Covid-19 vaccine. They added that Covid-19 vaccines cannot cause Covid-19.
In the same briefing, National Adverse Event Following Immunization Vice Chairman Dr. Rommel Lobo said the health worker had hypertension, diabetes, and controlled bronchial asthma.
"She underwent RT-PCR testing on Feb. 22, 2021, her result was said to be positive and underwent another RT-PCR on Feb. 23, her results this time came negative. On March 4 she was vaccinated with Sinovac. She had no symptoms upon screening which she declared in the health declaration form and on March 8, she tested positive for Covid-19," Lobo said.
Lobo said the patient was advised to get admitted to a hospital but initially refused.
"On March 10 she was admitted to the hospital where she was provided appropriate care to manage her Covid-19 infection. Unfortunately, she died on March 13 of Covid-19 infection," he added.
Meantime, FDA Director General Dr. Eric Domingo said individuals who have been injected with Covid-19 vaccine still has no protection in the first few weeks after the first dose as "this is the time the immune system is trying to develop" against the disease.
"So, it is expected first few weeks after vaccination your risk of developing Covid-19, getting the illness and getting severe illness and possibly dying from it is the same as a none-vaccinated person," Domingo said.
He reminded healthcare workers and high-risk individuals who have been inoculated with the first dose of the vaccine to continue practicing the minimum health standards.
"If you do get a vaccine, do not suddenly change the way you are doing things, you still wear a mask, distance yourself from everybody, you still wash your hands frequently and you still don't eat in groups because there is still no protection during the first few weeks," he said. (PNA)