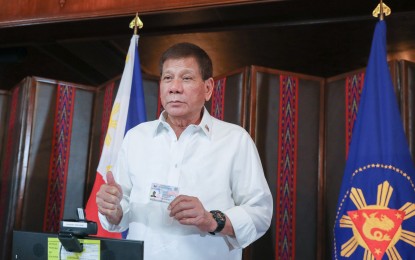 MANILA – President Rodrigo Duterte on Friday enjoined his fellow Filipinos to avail of PhilID, the national identification card under the Philippine Identification System (PhilSys).
Duterte made the appeal during the virtual ceremonial event organized by the Philippine Statistics Authority (PSA) to highlight key achievements of the PhilSys.
In his taped video message, Duterte reassured Filipinos of simpler and faster transactions with the government and the private sector through PhilID.
"As we pursue this long-overdue project, I ask every Filipino to give PhilSys a chance so that we may maximize the advantages of a universal and secure database that will make transactions more efficient and our lives more convenient," he said.
Duterte also guaranteed that Filipinos' personal data stored in the PhilSys registry will be protected.
"Let me assure everyone, as well as apart from its primary purpose of providing a resilient digital identification system for all Filipinos, PhilSys will also uphold the privacy of all personal information," he said.
Duterte likewise lauded the PSA and the National Economic Development Authority for implementing Republic Act (RA) 11055 or the PhilSys Act, as well as the Presidential Communications Operations Office for raising public awareness on the national ID system.
Despite the coronavirus disease 2019 (Covid-19) pandemic, over 20 million Filipinos have already completed the Step 1 Registration for PhilSys, as of February 26 this year.
The first step involves the house-to-house collection of demographic information of low-income households and appointment setting for Step 2.
The virtual registration for Step 1 is expected to be launched in April this year.
After the first step, Step 2 Registration for PhilSys involves validation of demographic information and capture of biometric information.
The third step of the registration is the issuance of PhilSys Number and the PhilID.
Duterte said Filipinos who opt to register on the PhilSys should follow strict minimum health standards.
"Allow me to stress however that as we go through the entire registration process, we must continue to observe health protocols to ensure our safety amidst Covid-19 pandemic," he said.
The government aims to register 50 million Filipinos by the end of 2021.
Duterte received earlier this month his PhilID after registering on the PhilSys on January 21 this year.
RA 11055, signed into law by Duterte in August 2018, creates PhilID as a valid proof of identity for all Filipino citizens and resident aliens of the Philippines.
The PhilID contains the ID holder's full name, sex, date, and place of birth, blood type, and address.
It will indicate if a person is a Filipino or a resident alien and will also feature the holder's front-facing photo, a full set of fingerprints, and an iris scan.
The PhilID, which will be given for free, will eventually replace all other government-issued IDs, except the passport, driver's license, and UMID ID.
It is optional for Filipinos to disclose marital status, mobile number, and electronic mail address.
It will also boost efficiency, especially in dealing with government services where people will only need to present one ID during transactions. (PNA)