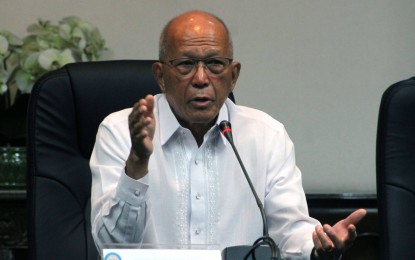 MANILA – The Department of National Defense (DND) on Sunday expressed its concern on reports regarding the presence of 220 Chinese militia boats off the Julian Felipe Reef (Union Reefs) in the West Philippine Sea (WPS) as he called to stop incursion into Philippine territory.
DND Secretary Delfin Lorenzana, in a statement, said this is a "clear provocative action of militarizing the area", noting that these territories are well within the Philippine Exclusive Economic Zone (EEZ) and Continental Shelf (CS) where Filipinos have the sole right to resources under international law and the 2016 arbitral ruling.
"We call on the Chinese to stop this incursion and immediately recall these boats violating our maritime rights and encroaching into our sovereign territory. We are committed to upholding our sovereign rights over the WPS," he added.
Earlier, the National Task Force for the West Philippine Sea (NTF WPS) expressed concern about a Philippine Coast Guard report that around 220 Chinese fishing vessels, believed to be manned by Chinese maritime militia personnel, were sighted moored in line formation at the Julian Felipe Reef on March 7.
"The NTF WPS notes this circumstance as a concern due to the possible overfishing and destruction of the marine environment, as well as risks to the safety of navigation," the NTF WPS said.
The reef is a large boomerang-shaped shallow coral reef at the northeast of Pagkakaisa Banks and Reefs (Union Reefs), located approximately 175 nautical miles west of Bataraza, Palawan.
Lorenzana said the DND is now coordinating with the Philippine Coast Guard, the NTF WPS, and the Department of Foreign Affairs for appropriate action on how to protect the welfare of Filipino fishermen, the country's marine resources in the area, and how to maintain peace and stability in the WPS. (PNA)