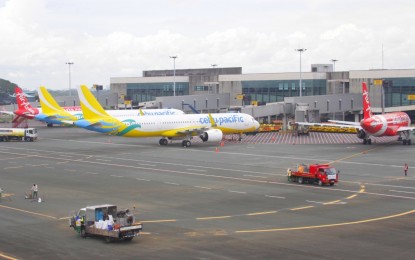 MANILA – Air travelers affected by the new quarantine restrictions may avail of several options for their upcoming flights.
Budget carrier Cebu Pacific (CEB) said on Sunday night that its flights would continue to operate as scheduled until March 24.
In an advisory, CEB said those who would opt to postpone their flights may rebook their tickets. They could also choose to refund or place the ticket value in a travel fund.
The carrier earlier announced the removal of change fees, giving passengers the option for unlimited rebooking.
Updates on flights scheduled from March 25 to April 4 will be provided in the coming days.
AirAsia Philippines, in a statement, assured regular flight operations via Manila to/from domestic destinations for essential travelers. Passengers with flights from March 22 to April 4 may move their flights from April 5 to June 30.
Unlimited flight changes with no additional cost and subject to seat availability may also be availed of.
They could also choose to retain the ticket value to their loyalty account.
AirAsia advised passengers to check the latest travel restrictions and advise of local and national governments before traveling.
Under the general community quarantine status, only essential travel is allowed in and out of Metro Manila and the provinces of Bulacan, Cavite, Laguna, and Rizal starting March 22 to April 4.
This is described as a "travel bubble" where residents will only be allowed to travel within their respective provinces. (PNA)