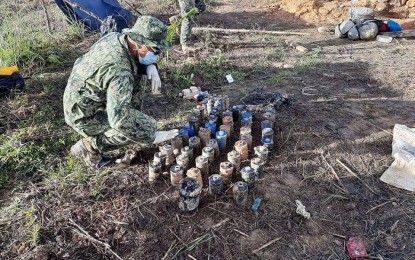 MANILA – The Philippine National Police (PNP) on Monday has recommended the closure of all illegal mining operations in Camarines Norte.
The recommendation came after Criminal Investigation and Detection Group (CIDG) chief Maj. Gen. Albert Ignatius Ferro, citing initial reports, said components of the improvised explosive devices (IEDs) used by the New People's Army (NPA) terrorists in last week's encounter with police officers in Barangay Dumagmang, Labo town, Camarines Norte came from illegal mining sites in the locality known for its thriving small-scale backyard gold mining activities.
The clash left five police officers dead and wounded two others.
Ferro said clearing operations resulted in the recovery of 75 IEDs consisting of one big, 16 small, and 53 medium-sized IEDs, and five Molotov petrol bombs.
Also recovered from the scene were a roll of firing wire, 43 non-electric blasting caps, two batteries, and an electric blasting cap.
The national government has condemned the attack by the communist terrorists on the remote barangay where a farm-to-market road is being built that will introduce development in peasant communities in the area.
Government troops have been deployed to the area following complaints from the project developer of extortion by the communist terrorist group.
The Communist Party of the Philippines-New People's Army is listed as a terrorist organization by the United States, European Union, the United Kingdom, Australia, Canada, New Zealand, and the Philippines. (with Priam Nepomuceno/PNA)