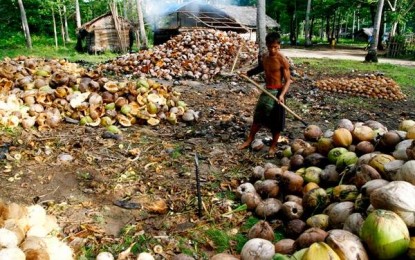 MANILA – To complete the newly reconstituted Philippine Coconut Authority (PCA) Board, three farmer representatives from each of the island groups Luzon, Visayas, Mindanao will be selected.
The farmer representatives will be joined in the PCA Board by the Secretaries of Agriculture, Finance, Budget, Science and Technology, and Trade, as well as the PCA administrator.
The DA-PCA told the media on Wednesday that on March 15, the government officials met virtually to discuss the specific action items as required under the Republic Act 11524 or the "Coconut Farmers and Industry Trust Fund Act".
"The DA-PCA enjoins the active participation of coconut farmers and farmer groups in the ongoing regional and provincial consultation on the proposed nomination and selection process for the three farmer representatives, one each from the three island groupings, in the PCA Board,"DA-PCA chief Benjamin Madrigal Jr. said.
RA 11524 mandates that the PCA Board government representatives coordinate with the DA-PCA in the promulgation of the nomination and screening process for the farmer representatives, within 30 days from effectivity of the law.
"While there is no designated timeline on the designation of farmer representatives as approved by the President, the PCA hopes to have the three farmer representatives to the PCA Board the soonest time possible," Madrigal clarified.
Stipulated in the new law requires coconut farmers to represent in the PCA Board should be a Filipino citizen registered with the DA-PCA's National Coconut Farmers Registry System (NCFRS); owns not more than five hectares of land in the last 10 years; have considerable experience and reputable track record in promoting coconut farmers' interest and welfare; and is nominated by coconut farmer organizations or cooperatives that are active for the past three years in farmers organizations or community enterprise development.
The proposed nomination and selection process by the DA-PCA involves the collective voting of coconut farmers as a coconut farmer organization, association, or a cooperative, from provincial to regional and eventually, island-wide nomination.
"We already have forwarded the copy of the proposed nomination and selection process to our farmer groups through our regional and provincial offices. The DA-PCA is committed in ensuring the active participation of coconut farmers and farmer groups in the proposed nomination and selection process to obtain firsthand their comments, recommendations, and hopefully, approval," the DA-PCA added. (PNA)