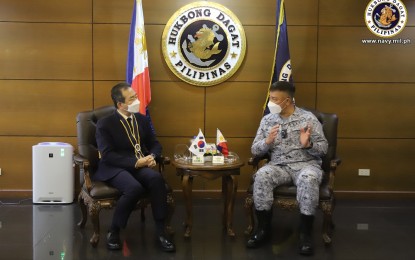 MANILA – The Philippines and South Korea will continue to have strong ties in maritime security and naval cooperation.
This commitment was made following the introductory call of newly-designated Ambassador of the Republic of Korea (ROK), Kim In-Chul, to Philippine Navy (PN) chief, Vice Admiral Giovanni Carlo Bacordo, at the PN headquarters in Manila on Wednesday.
"The highpoint of the discussion during the call was the continuing strong bilateral cooperation between the Philippines and South Korea particularly in maritime security and naval cooperation," said PN public affairs office chief Commander Benjo Negranza in a statement Thursday.
Incidentally, South Korean shipbuilder Hyundai Heavy Industries was the contractor of the BRP Jose Rizal (FF-150) and BRP Antonio Luna (FF-151), the first two guided-missile frigates, in the PN fleet.
The South Korean government also donated a "Pohang"-class corvette to the Navy which was later renamed the BRP Conrado Yap (PS-39) and is now considered one of the most capable and heavily armed ships of the fleet.
Negranza added the visit highlights both parties' commitment to "continuing and strengthening friendship and ties fundamental to the long-standing diplomatic relations between the Philippines and South Korea."
Meanwhile, Bacordo in a message to the Philippine News Agency Thursday, said he also discussed ongoing naval cooperation efforts between the two countries.
"With the ROK (Republic of Korea) Ambassador, we discussed ongoing naval cooperation efforts and how to enhance it - like the Navy-to-Navy talks which we hosted virtually (in the) 4th Quarter of 2020, the student officer exchanges, the PPE (personal protective equipment) and medical equipment donations by the ROK government, the Meeting Procedures and Passing Exercises conducted regularly," he added.
Bacordo said the South Korean envoy also committed to further strengthening cooperation and support between the PN and ROK Navy through technical support of acquired and donated assets, education and training, and other capability development programs.
"He reiterated the ROK government invitation for our Armed Forces to attend defense exhibits scheduled this year," he added.
On the PN's Corvette Acquisition Program, Bacordo said the South Korean diplomat also reiterated that Seoul's offer includes an additional Pohang-class corvette. (PNA)