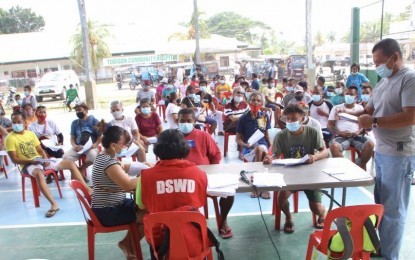 MANILA – Malacañang on Thursday expressed support to Senator Christopher Lawrence "Bong" Go's proposal to provide more assistance to poor Filipinos amid the spike in coronavirus disease 2019 (Covid-19) cases in the country.
"Sumasang-ayon po kami kay Senator Bong Go (We agree with Senator Bong Go)," Presidential Spokesperson Harry Roque said in a virtual presser, when asked if the government supports Go's proposal to expand social amelioration program (SAP) following the reimposition of stricter quarantine rules in Metro Manila and four nearby provinces due to rising Covid-19 cases.
Metro Manila, Bulacan, Cavite, Laguna, and Rizal have been placed under a stricter general community quarantine until April 4.
Go, in a statement released Wednesday, urged President Rodrigo Duterte to grant additional financial aid to the indigents through an expanded SAP.
He said providing additional assistance to struggling Filipinos is necessary to help them cope with the Covid-19 pandemic.
Roque stressed that while the government backs Go's suggestion, it would first distribute the cash aid earmarked for low-income households under Republic Act (RA) 11494 or the Bayanihan to Recover as One Act otherwise known as Bayanihan 2.
RA 11494 mandates the granting of emergency subsidy ranging from PHP5,000 to PHP8,000 to each poor Filipino family residing in areas under lockdown.
As of Wednesday, the government has already released a total of PHP98,786,563,950 for over 17 million low-income households affected by the Covid-19 pandemic, according to the SAP Monitoring Dashboard for Emergency Subsidy under Assistance to Individuals in Crisis Situation uploaded on the official website of the Department of Social Welfare and Development.
Roque also noted that the Department of Health has received around PHP287.47 billion under the 2021 national budget to ensure the implementation of the government's Covid-19 response programs.
"So 'yun pa muna po ang ating ilabas para ibigay bilang tulong sa mga mamamayan natin ngayong meron na naman tayong pagsubok sa Covid-19 (We have to utilize all the available funds first to help our fellow countrymen, especially now that there are new challenges amid the Covid-19 pandemic)," he said.
Roque said the government would only push for the passage of the proposed Bayanihan to Arise As One Act or the Bayanihan 3, in case it no longer has sufficient funds to help poor Filipinos amid the pandemic.
"Now, kung hindi po sapat 'yung nasa Bayanihan 2 at saka nasa 2021 budget, puwede naman pong pag-usapan ang Bayanihan 3. Pero ubusin po muna natin itong mga salapi na nakalaan dito sa Bayanihan 2 at sa 2021 budget (Now if the funds under Bayanihan 2 and 2021 budget are not enough, we can talk about Bayanihan 3. But let's utilize first all the funds under Bayanihan 2 and 2021 budget)," he said.
Under the proposed Bayanihan 3, a PHP420-billion will be allocated for the Covid-19 response and recovery interventions grounded on economic inclusivity and collective growth.
The measure also proposes the allocation of PHP108 billion for additional social amelioration to impacted households, PHP100 billion for capacity-building for impacted sectors, PHP52 billion for wage subsidies, PHP70 billion for capacity-building for agricultural producers, PHP30 billion for Internet allowances to students, and PHP30 billion for assistance to displaced workers.
The proposed Bayanihan 3 states that each household member will receive PHP1,000 regardless of their economic status. On top of this, a PHP1,000 allowance will be distributed to each student and teacher and PHP8,000 for every displaced worker.
It also allots PHP25 billion for Covid-19 treatment and vaccines, and PHP5 billion for the rehabilitation of areas impacted by recent floods and typhoons. (PNA)