MANILA – The Canadian government on Thursday slammed China's actions in the South China Sea, "including off the coast of the Philippines" where over 200 China-flagged vessels were sighted as early as March 7.
"Canada opposes recent Chinese actions in the South China Sea, including off the coast of the Philippines, that escalate tensions and undermine regional stability and the rules-based international order," Canadian Ambassador to the Philippines Peter MacArthur said.
Canada follows the position of several other nations, such as Japan, Australia, the United Kingdom, and the United States, who also aired concerns over the current South China Sea situation.
About 220 Chinese vessels were first reported by the Philippine Coast Guard moored in line formation at the Julian Felipe Reef some 175 nautical miles off Bataraza, Palawan.
This prompted Foreign Affairs Secretary Teodoro Locsin, Jr. to fire off a diplomatic protest over the issue on March 21.
Chinese Ambassador Huang Xilian, however, maintained that the boats were only "taking shelter" in what Beijing claims as part of its administrative district.
The US Embassy in Manila, on the other hand, said the Chinese boats have been mooring in the area "for many months in ever-increasing numbers, regardless of the weather".
Meanwhile, Locsin revealed that the Chinese Embassy nearly mistook his March 21 directive to issue a diplomatic protest as an order to fire guns at the vessels.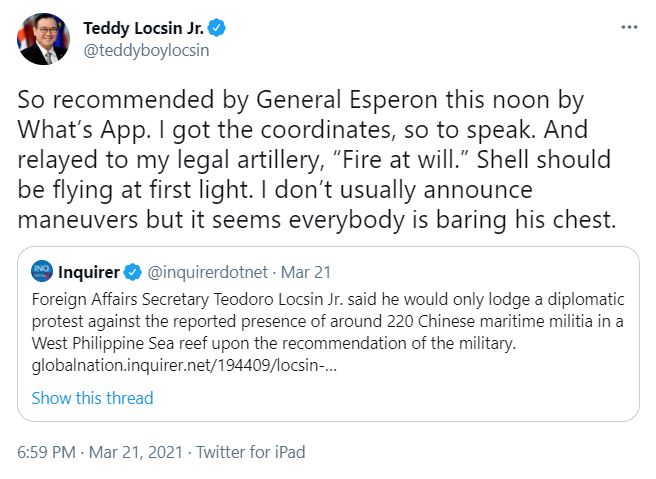 "Chinese embassy said that in Chinese social media my expression 'fire at will'—unmistakably our diplomatic protest—is portrayed in Chinese characters as an order to fire guns at Chinese boats. I am not responsible for totalitarian distortions of plain English. Correct it yourself," he said on Thursday. (PNA)