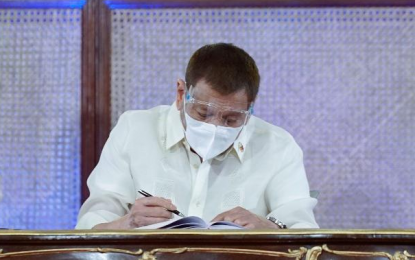 MANILA – President Rodrigo Duterte has signed into law the proposed Corporate Recovery and Tax Incentives for Enterprises (CREATE) Act to attract more investments and maintain fiscal prudence and stability.
Duterte signed on Friday Republic Act (RA) 11534 or the CREATE Act which introduces reforms to the corporate income tax and incentives systems.
RA 11534 cuts corporate income tax rate to 25 percent from the current 30 percent. This is retroactive from July 1, 2020.
"Provided, that corporations with net taxable income not exceeding PHP5 million and with total assets not exceeding PHP100 million, excluding land on which the particular business entity's office, plan, and equipment are situated during the taxable year for which the tax is imposed, shall be taxed at 20 percent," according to the law.
In the case of corporations adopting the fiscal-year accounting period, the taxable income shall be computed without regard to the specific date when specific sales, purchases, and other transactions occur, the law read.
Under RA 11534, corporations' income and expenses for the fiscal year shall be deemed to have been earned and spent equally for each month of the period.
"The corporate income tax rate shall be applied on the amount computed by multiplying the number of months covered by the new rate within the fiscal year by the taxable income of the corporation for the period, divided by the twelve," the law said.
A minimum corporate income tax of 2 percent of the gross income as of the end of the taxable year is imposed on the entitled taxable corporation beginning on the fourth taxable year immediately following the year in which such corporation commenced its business operations.
Foreign corporations, based on the CREATE Act, will be subject to an income tax equivalent to 25 percent of the taxable income derived in the preceding taxable year from all their sources within the Philippines.
A minimum corporate income tax of 2 percent of gross income will be imposed on a resident foreign corporation.
In a statement sent to Palace reporters, Presidential Spokesperson Harry Roque confirmed that Duterte vetoed some items included in CREATE Law.
Roque has yet to detail the vetoed provisions of the newly-signed law.
RA 11524, which was released by Malacañang on Friday, takes effect 15 days after its complete publication in the Official Gazette or in a newspaper of general circulation. (PNA)