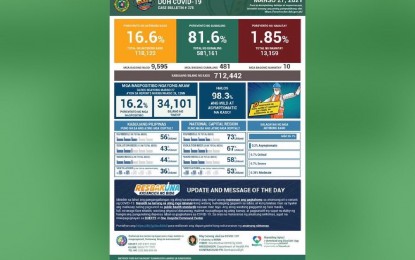 MANILA – The Department of Health (DOH) reported the rise of the coronavirus disease 2019 recovery tally to 581,161 after 481 more survivors were confirmed on Saturday.
In its latest case bulletin, the DOH also reported 9,595 new infections, bringing to 118,122 the number of active cases in the country.
Ten new fatalities were also recorded, bringing to 13,159 the death toll.
Of the 712,442 confirmed cases since the start of the pandemic, 16.6 percent are active cases, 81.6 percent are recoveries, and 1.85 percent are fatalities.
Most of the active cases have mild symptoms, accounting for 95.1 percent of those undergoing treatment, while 3.2 percent are asymptomatic, 0.7 percent are critical, 0.7 percent are severe, and 0.39 are moderate.
Nationwide, 56 percent of the total 1,900 intensive care unit (ICU) beds for Covid-19 patients are occupied, including 43 percent of the 13,500 isolation beds and 44 percent of the 6,000 ward beds.
In Metro Manila, the DOH said 700 ICU beds are allocated for Covid-19 cases, of which 73 percent or 511 are occupied.
Also utilized are 67 percent of the 3,800 isolation beds and 58 percent of the 2,200 ward beds in hospitals within the National Capital Region.
The DOH said 36 percent of the 2,000 ventilators available nationwide are also in use.
Amid the surge in cases, the DOH reminded the public to stay at home and postpone all non-essential travels. It also advised those who exhibit Covid-19 symptoms to coordinate with Barangay Health Emergency Response Teams and the One Hospital Command Center. (PNA)