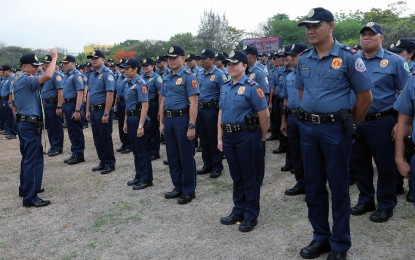 MANILA – Once the enhanced community quarantine (ECQ) in Metro Manila and four nearby provinces begins 12:01 a.m. Monday, the Philippine National Police (PNP) will be busy monitoring non-Authorized Persons Outside of Residence (APORs).
The PNP advised on Sunday that for their own good, non-APORs must stay home as much as possible to decrease their chances of getting the coronavirus disease 2019 (Covid-19).
Lt. Gen. Cesar Hawthorne Binag, commander of the Joint Task Force Covid Shield, said they will deploy 7,876 cops in 929 checkpoint areas in the National Capital Region; 982 cops in 162 control points in Central Luzon, particularly in Bulacan; and 498 policemen in 15 quarantine control points in Calabarzon, specifically Cavite, Laguna and Rizal.
They will undergo Covid-19 testing and isolation after their weeklong duties.
Binag said there is no need for travel passes as identification cards or certificates to prove employment status will suffice when passing through checkpoints.
He said quarantine passes will depend on village ordinances.
"Violators will be issued citation tickets or sent back to their places of origin. They may also be sent to a gym or whatever spacious area to listen to lectures or watch videos that will remind them of protocols under ECQ," Binag said in Filipino during a virtual press conference.
He said checkpoints must have enough space if a vehicle must turn around, be secured and equipped with tents, restrooms and sanitation items. Cops will also carry sticks to avoid physical contact when checking on items.
"Those passing through checkpoints must prove they are residents there and are out only to buy necessities," he added.
The Highway Patrol Group and other support units will provide assistance, particularly when conducting an inspection.
Binag reminded that persons below 18 and over 65 years old, persons with comorbidities, and pregnant women must stay at home.
The 6 p.m. to 5 a.m. curfew will be followed.
"If you're not an APOR, please do not go out because we will send you home just the same," he said.
ECQ will last until 11:59 p.m. on April 4 in the so-called NCR Plus bubble.
Lt. Gen. Guillermo Eleazar, deputy chief for administration and commander of the Administrative Support for Covid-19 Task Force, said that based on the order of PNP chief Gen. Debold Sinas, police commanders in NCR Plus must ensure that their personnel are well-protected and aware of the ECQ rules, especially in proper decorum and observance of maximum tolerance.
"All our security personnel that would be tapped to implement the ECQ in the NCR Plus area are reminded to strictly observe the minimum protocols on health safety," said Eleazar.
Cop were issued personal protective equipment on top of the Field Service uniform, which has a long-sleeved upper garment for added protection. (PNA)