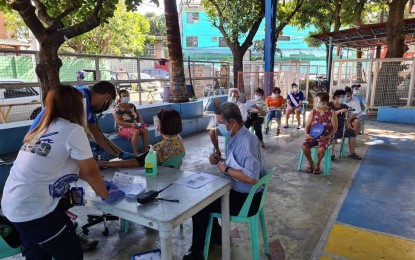 MANILA – Around 14.5 million non-elderly adult Filipinos with certain pre-existing conditions are next in the vaccination priority line after the seniors, as a health expert urged the public to have themselves checked for illnesses.
In an online media forum Monday, Inter-Agency Task Force Sub-Technical Working Group on Data Analytics member Dr. John Wong said after the inoculation of healthcare workers, the elderly and non-elderly with comorbidities need to be protected against Covid-19.
"The elderly are 15 percent less likely to be infected because they have been asked to quarantine or shelter in place during the lockdown last year. However, if they get infected, they are five times more likely to have severe disease when infected and 10 times more likely to die," Wong said.
Since persons with certain comorbidities are at an increased risk for "unfavorable" Covid-19 outcome, they must be included in the vaccination priority group, Wong said.
Inoculating persons with comorbidities such as chronic respiratory disease, hypertension, cardiovascular disease, chronic kidney disease, malignancy, diabetes mellitus, obesity, and chronic liver disease would relieve the pressure in the health system as the country continues to fight the pandemic, he said.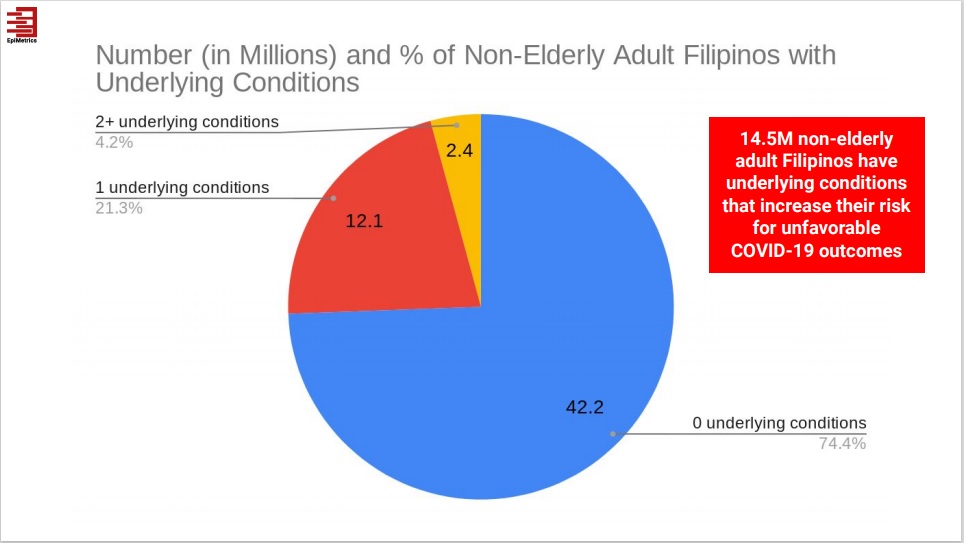 "According to data, 14.5 million Filipinos, some of them probably have already been diagnosed. If they have a previous diagnosis, they have a medical certificate or they have a prescription they can use that as A3 group, and for those who haven't seen a doctor, this might be the right time to see the doctor to know if you have comorbidities to manage, to avoid risk for Covid-19," Wong said.
In the national Covid-19 vaccination program, healthcare workers are the priority vaccinees. Next in line are the seniors under the A2 group, then adults with comorbidities for the A3 group.
READ: Gov't to start vaccinating elderly alongside health workers
While depression is a comorbidity of a pre-existing illness, Wong noted that studies have not shown that depression increases the risk of severe disease, intensive care unit admission, or deaths once patients are infected by Covid-19 so it is not presently included in the A3 group of diseases.
Due to the limited supply of vaccines, the government would implement the sub-prioritization of vaccinees, particularly those with underlying conditions as enumerated by Wong, DOH Undersecretary Maria Rosario Vergeire said.
"Base sa pag-aaral sa outcomes ng Covid-19, sila muna po ang uunahin natin at pagkatapos kapag sufficient na po ang doses natin, 'yung individuals po na may comorbidities na hindi kasama diyan ay babakunahan din naman po natin (Based on the studies on Covid-19 outcomes, we'll prioritize them and when we have sufficient doses, we'll vaccinate individuals with other comorbidities)," she said.
Vergeire added that the simultaneous vaccination of individuals belonging to A1, A2, and A3 groups would help curb the upward trend in the number of Covid-19 cases.
"It was resolved in the IATF that we will already have simultaneous from our sectors, A1 healthcare workers, A2 senior citizens, A3 those with comorbidities," she said.
"Part of the measures for the government to help in containing the spread of this disease is to ramp up vaccination. Second, there's already evidence presented to us by the private sector that in other countries they were able to speed up their vaccination by having simultaneous vaccination," she added.
In some areas that have finished inoculation of healthcare workers, such as the city of Manila, vaccination for senior citizens has begun.
In a simultaneous vaccination, the government would not wait to complete the inoculation of healthcare workers as there are other vulnerable individuals waiting in the line, she said.
"Hindi porke sinabi natin magbabakuna na tayo ng senior citizens and those with comorbidities, hindi na tayo magbabakuna ng healthcare workers. When we say simultaneous, sabay-sabay po, sakaling may dumating pa rin na healthcare worker sa bakunahan, bibigyan parin natin sila, hindi sila mawawala sa listahan (Not because we will be vaccinating senior citizens and those with comorbidities, we'll no longer vaccinate healthcare workers. When we say simultaneous, if a healthcare worker goes to a vaccination site, they [healthcare workers] will get vaccinated, they will not be removed from the list)," she said.
Citing estimates, Vergeire said there are 1.8 million healthcare workers, more than 9 million senior citizens and 14.5 million individuals with comorbidities who need to be vaccinated nationwide. (PNA)