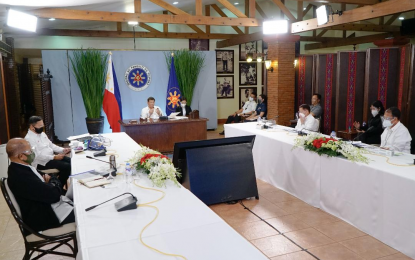 MANILA – President Rodrigo Duterte on Monday said he has ordered vaccine czar Carlito Galvez Jr. to sign any document that will allow the private sector to import Covid-19 vaccines.
"I have ordered Secretary Galvez to sign any and all documents that would allow the private sector to import at will, miski ilan ang gusto nilang ipasok, okay sa akin (as many as they want to import, it will be fine with me)," he said in a pre-recorded public address.
Duterte welcomed private sector efforts to buy their own Covid-19 vaccines since there were "limitations" in the number of doses that the national government could purchase.
"Tayong gobyerno, ito lang ang nakuha natin, ito lang din ang binigay (We in the government, this is how much we can get, this is how much they give us)," he said.
He also noted that many employers have decided to purchase Covid-19 vaccines for their employees so that they can go on with their business operations.
"Maraming negosyante na gusto bumili kasi ibigay nila sa kanilang mga trabahente (There are many businesses that want to purchase vaccines for their employees).You know what is the reason? So that the economy can be open," he said.
Duterte added that many factories had to close down because their employees could not go to work.
"Yung mga factories nila, walang trabahante because maraming restrictions sa mobility ng tao (Their factories don't have workers because there are many restrictions in the mobility of people). There are so many restrictions and workers come from all places," he added.
Last week, Duterte described as "illegal" for private companies to be free from liability for possible adverse effects of Covid-19 vaccines procured under tripartite agreements.
"The government cannot guarantee much less give you an immune status na (that) you are freed of any and all liability. I think we cannot even do that even if we wanted to yung (the) assumption of liability," he said in public address on March 22.
Malacañang later clarified that the government will pay compensation to those who would suffer from possible adverse effects of Covid-19 vaccines unless there is "willful misconduct" and "gross negligence" on the part of private entities.
This is stipulated under Republic Act No. 11525 or the Covid-19 Vaccination Program Act of 2021.
"Notwithstanding any law to the contrary, public officials and employees, contractors, manufacturers, volunteers and representatives of duly authorized private entities who are duly authorized to carry out and are actually carrying out the Covid-19 Vaccination Program shall be immune from suit and liability under Philippine laws with respect to all claims arising out of, related to, or resulting from the administration or use of a Covid-19 vaccine under the Covid-19 Vaccination Program except arising from willful misconduct and gross negligence," Section 8 of the law reads.
On Feb. 26, Duterte signed R.A. 11525 to fast-track the administration of Covid-19 vaccines and establish a PHP500-million indemnification fund for those who may show adverse side effects after getting the shot.
The law also allows local government units (LGUs) and the private sector to purchase Covid-19 vaccine. (PNA)