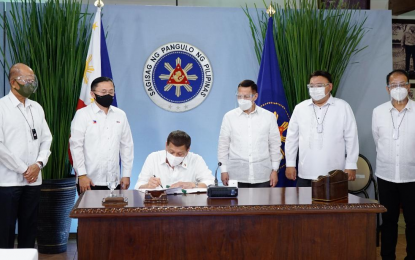 MANILA – President Rodrigo Duterte on Monday approved the release of PHP23-billion emergency subsidy to about 22.9 million individuals in Metro Manila and four nearby provinces placed under a week-long enhanced community quarantine (ECQ).
Duterte signed a document allowing the release of "in-kind" aid to beneficiaries during a meeting with Cabinet members aired over state-run PTV-4.
In the same meeting, Budget Secretary Wendel Avisado said 11.2 million from Metro Manila, 3 million from Bulacan, 3.4 million from Cavite, 2.7 million from Laguna, and 2.6 million recipients from Rizal will receive the emergency subsidy.
Avisado said the funds will be sourced from the remaining unutilized funds under Bayanihan 2, the government's second pandemic stimulus package.
He said the distribution of in-kind aid may start during the first week of April.
Avisado said the Department of Budget and Management (DBM) will directly release the emergency subsidy to local government units (LGUs) for distribution to affected individuals.
"So wala po tayong cash po (So we won't be distributing cash). We will leave it to the local government units," Avisado said.
To avoid corruption, Avisado said LGUs will be required to provide a list of beneficiaries and submit reports of disbursements and utilization of funds.
"Let us just be careful. Siguraduhin lang natin na walang katiwalian (Let's make sure there's no corruption). I place my full faith and confidence in the mayors," Duterte told Avisado.
During the ECQ last year, beneficiaries received PHP5,000 and PHP8,000 for the months of April and May. The second tranche of cash aid was also distributed for Filipinos who did not receive the first tranche.
Duterte has placed Metro Manila, Bulacan, Cavite, Laguna, and Rizal under ECQ, the most restrictive quarantine status, until April 4 to curb the spike in Covid-19 cases.
Under ECQ, all households will be required to observe strict home quarantine. Movements will be limited to Authorized Persons Outside Residence, those accessing essential goods and services, and workers in establishments allowed to operate.
As of Monday, the country has recorded 731,894 confirmed Covid-19 cases, 13,186 are deaths, and 603,213 are recoveries.
The country saw at most 10,016 daily infections since new Covid-19 variants have been detected. (PNA)