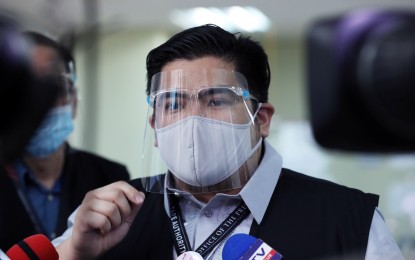 MANILA – The Anti-Red Tape Authority (ARTA) is urging the Food and Drug Administration (FDA) to expedite its processing of applications for the use of Ivermectin, an anti-parasitic drug undergoing trials for possible treatment of Covid-19 symptoms.
This, after the FDA announced earlier Monday that doctors and hospitals may now apply for a Compassionate Special Permit (CSP). The CSP allows for the registration of food and drugs for applicants that will be able to provide a License to Operate, a Certificate of Product Registration, a Letter of Intent with undertaking to take full responsibility, and other requirements.
"With this directive, FDA needs to be clear with their timelines and come up with a fixed list of requirements in accordance with their submitted Citizen's Charter," ARTA Director General Jeremiah Belgica said, noting that the regulatory body for food and drugs shall only take three working days to act on requests for CSPs based on its updated Citizen's Charter.
Under Republic Act 11032 or the Ease of Doing Business law, all government processes must only run for three, seven, or 20 days depending on the transaction. Otherwise, ARTA may declare automatic approval of pending applications provided that submitted requirements are complete and fully paid.
Belgica has encouraged the private sector to apply for a permit to be able to use Ivermectin. The use of the said drug has been a cause for debate with the House of Representatives set to hold a hearing Tuesday.
Ivermectin is usually prescribed by veterinarians for the prevention and treatment of parasitic infection in select animals.
However, some physicians have claimed it as a potential cure to Covid-19 patients based on the promising results they saw in their trials. They also noted its cheaper price compared to existing anti-Covid-19 medicines.
"Let's not let bureaucracy get in the way of people getting better services. Mag-apply ho kayo and ARTA will hold your hand. We'll make sure na walang panggigipit na magaganap (You may now apply and we'll support you. We'll make sure there will be no undue pressure)," Belgica added.
On Tuesday, ARTA will hold a meeting with the FDA, the Department of Health, the private sector, and other relevant stakeholders to discuss steps to streamline the processing system for Ivermectin applications. (PR)