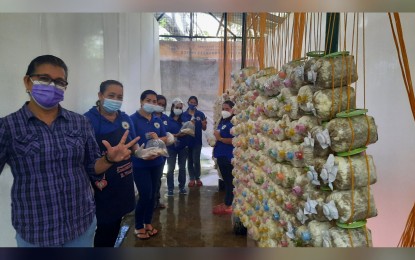 MEYCAUAYAN CITY, Bulacan – In this city, females are taking the lead in mushroom growing as a potential source of new or additional income during the pandemic.
Mayor Linabelle Ruth Villarica launched the local government's mushroom house in November 2020 with members of Samahan ng Kababaihan ng Meycauayan taking charge of the urban farming.
Villarica told the Philippine News Agency that the local government aims to extend its "Kabutehan ni Juana" project to solo parents, persons with disability, and the Soroptimist International of Meycauayan.
"We want to provide a livelihood for the women in the city so they can rely on themselves amid the Covid-19 (coronavirus disease 2019) pandemic," she said.
She added urban farming like mushroom growing is a "good venture" as people are advised to stay at home to contain the spread of the coronavirus.
Mushroom house
Villarica said the city government has spent nearly a million pesos to start the mushroom growing project, including the mushroom house located at the material recovery facility in Barangay Pajo.
Evangeline Leonardo, 59, is one of the women in charge of the city's mushroom house.
Since the mushroom house just started, Leonardo and other women working in the mushroom house are being employed in the city government.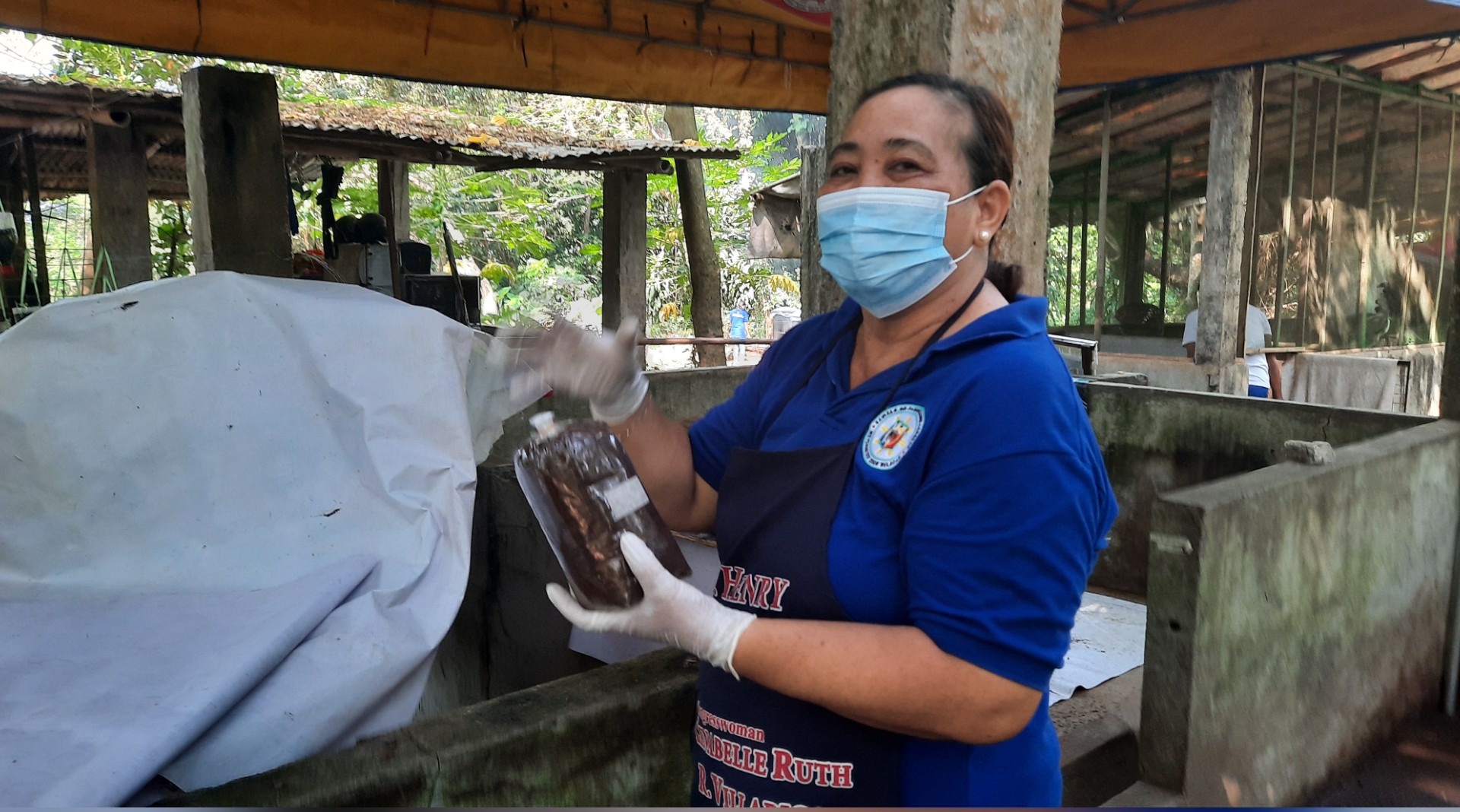 Evangeline Leonardo, 59, a mushroom grower in Meycauayan City.
"Maganda po itong kabuhayan ngayon kasi pupwede mo siyang gawin sa bahay lang. Mabilis din po ang kita kasi sa apat na buwan, may harvest ka na (It's a good livelihood now because you can do it at home. The income is also fast because, in four months, you already have a harvest)," she said.
Leonardo and women working in the mushroom house grow oyster mushrooms from scratch.
They make their own fruiting bag where the 'mother mushroom', or the first mushroom sprouts.
The fruiting bag is made of sawdust, molasses, rice barn, lime, magnesium sulfate, bentonite, and sorghum.
Leonardo said they have to steam the fruiting bags for hours and incubate the bags for weeks until mycelium, the vegetative part of a fungus, appears.
The fruiting bags then are being transferred to the mushroom house, which should have the perfect condition to grow mushrooms with moisture, good ventilation, and adequate light.
Bella de Leon, farm manager of the city's mushroom house, said one fruiting bag has six to eight sets of harvest.
To maximize the fruiting bags, de Leon said they are currently studying the recycling of fruiting bags by adding probiotic milk and energy drinks.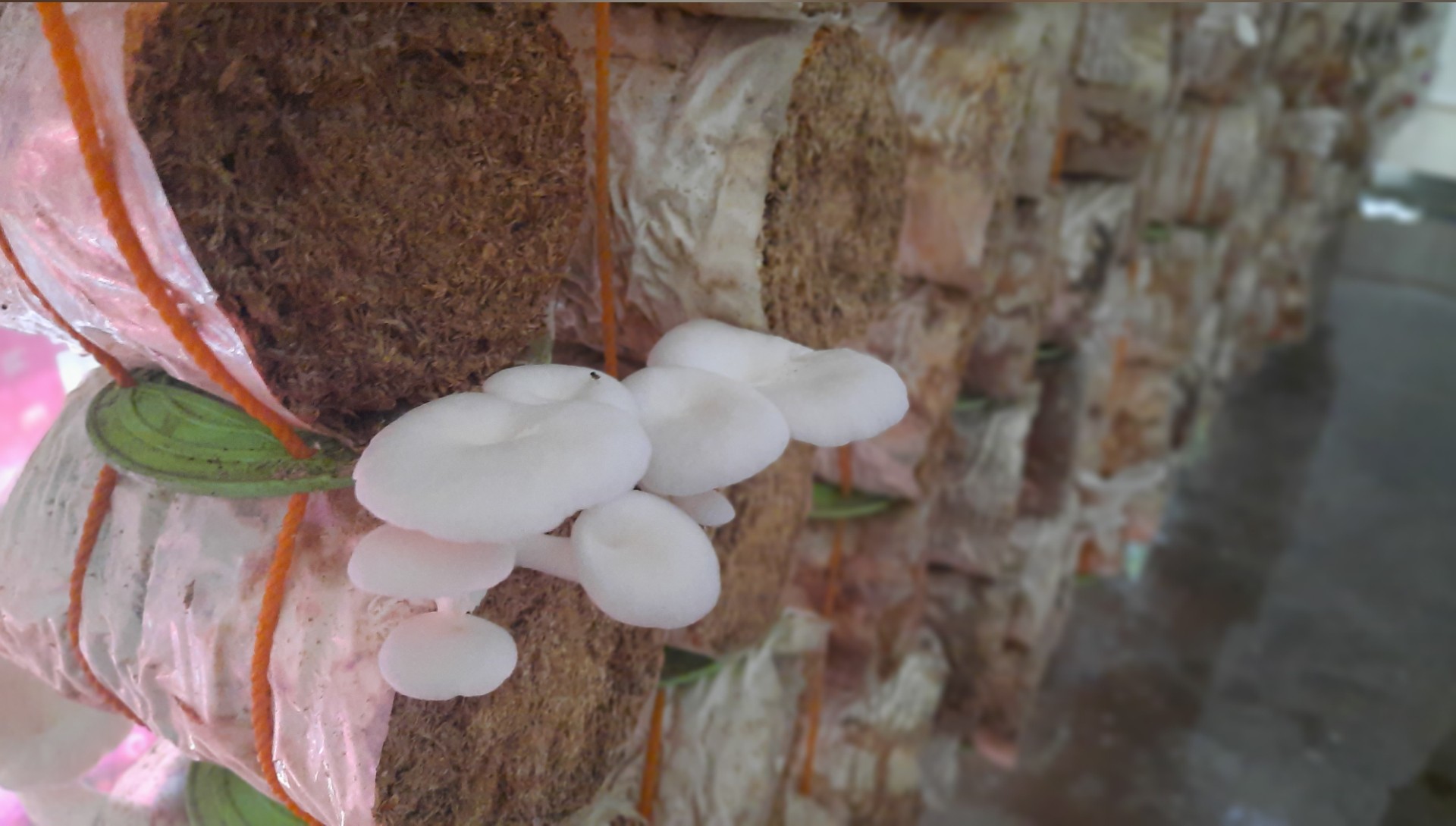 Mushrooms still sprout in the recycled fruiting bag. The recycled fruting bag is an experiment
of mushroom growers in Meycauayan City to maximize the harvest of mushrooms.
"We are experimenting. We're seeing promising results," she added.
Since the production is still small-scale, mushroom harvests are being sold to city government employees and the neighborhood near the mushroom house. They are selling the fresh mushroom for PHP80 per 250-gram bag.
Mushroom as agri-business
Faustino Aromin, a mushroom grower and owner of Flourish Farm in San Ildefonso, Bulacan, said mushrooms are a good venture since this is a high-value crop with a fast turnover of investments.
It does not need big area or facility to grow mushrooms as a 24-square meter area can handle 3,000 fruiting bags, said Aromin, a lecturer for the mushroom growing seminar for "Kabutehan ni Juana".
Unlike other crops, mushrooms can also stand typhoons as long as the foundation of the facility is strong.
With 1,000 fruiting bags, Aromin said revenue for fresh mushrooms alone could reach PHP36,000 in three months, or PHP18,000 gross income minus operating cost.
He said one could earn more through mushroom processing like producing mushroom chicharon (crisp), chili paste, and tocino.
Mushroom, which is high in protein and has no fats, is also a good alternative for meat, Aromin said.
Demand for meat alternatives is also growing with people becoming vegan and vegetarian, he added. (PNA)