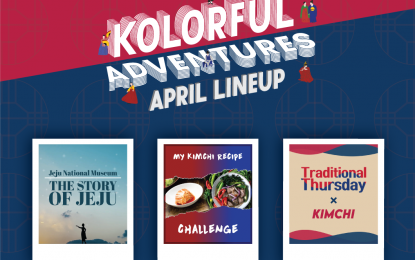 MANILA – As the country observes the Filipino Food Month in April, the Korean Cultural Center in the Philippines (KCC) is inviting everyone to join the "My Kimchi Recipe Challenge", wherein participants would put a twist to a Filipino cuisine by including kimchi in it.
On Wednesday, KCC announced that five winners will receive Korean meal sets. They must be able to highlight creativity in mixing this traditional side dish with Filipino food.
To join, one must upload a photo of his or her entry on Facebook. Put the hashtags, #MyKimchiRecipe and #KolorfulAdventures. Write the ingredients and directions on how to make that dish. Participants must also tag two of their Facebook friends.
Those who may not want to take the challenge but may be interested to learn, KCC has scheduled different discussions that will be aired on its social media accounts.
KCC's "Traditional Thursday" will feature kimchi, a staple in Korean cuisine. Learn about kimchi's health benefits, history, regional representations and more. There are different kinds of this fermented napa cabbage and radish, according to KCC.
Meanwhile, the National Commission for Culture and the Arts (NCCA) will also hold a webinar series every Tuesdays and Thursdays, to educate Filipinos and preserve the Filipino culinary heritage.
Dubbed as "Philippines on a Plate", the webinar series will gather culinary historians, chefs, farmers, among others, to discuss how the public could influence local food cultivation.
The webinar series will be aired on the social media accounts of the NCCA, Sentro Rizal, Department of Agriculture, and the Department of Tourism.
This year's Filipino Food Month observance aims to showcase the importance of culinary arts and tradition in the identity of Filipinos. (PNA)