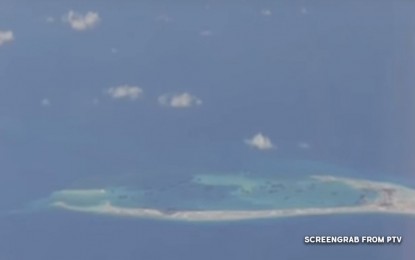 MANILA – The Armed Forces of the Philippines (AFP)'s maritime patrol off Pagkakaisa Banks last March 30 have resulted in the discovery of illegal man-made structures constructed in some of its features.
"During this patrol, we were able to document man-made structures that were built on some of the features. These structures are illegal," said AFP chief-of-staff Lt. Gen. Cirilito Sobejana, in a statement Thursday.
Pagkakaisa Banks is under the jurisdiction of the Municipality of Kalayaan, Palawan while Julian Felipe Reef is a large boomerang-shaped shallow coral reef at the northeast of Pagkakaisa Banks and Reefs (Union Reefs), located approximately 175 nautical miles west of Bataraza, Palawan.
Earlier, the National Task Force West Philippine Sea (NTF WPS) expressed concern about a Philippine Coast Guard sighting report where around 220 Chinese fishing vessels, believed to be manned by Chinese maritime militia personnel, were sighted in line formation at the Julian Felipe Reef last March 7.
"The Laws of the Sea gives the Philippines indisputable and exclusive rights over the area. These constructions and other activities, economic or otherwise, are prejudicial to peace, good order, and security of our territorial waters," Sobejana said.
He added that the AFP, through the Western Command, regularly conducts maritime patrols in the West Philippine Sea as part of its constitutional mandate to protect the country's sovereignty and sovereign rights.
"We have already updated our higher civilian authorities such as the Department of Foreign Affairs and Department of National Defense about these offenses to our sovereignty," Sobejana said.
He also assured every Filipino that AFP efforts continue to dutifully perform its mandate to protect and advance our national interests in the area. (PNA)