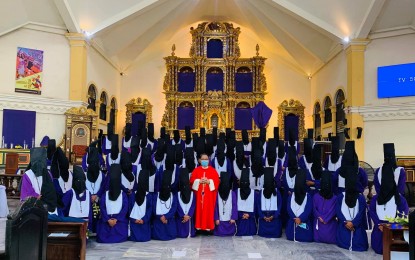 TACLOBAN CITY – The Archdiocese of Palo in Leyte has called on Catholics not to deride the town's "Penitentes" this Holy Week by comparing them to the Ku Klux Klan (KKK).
In a statement Thursday, the archdiocese said it is unfortunate that the robe (costume) of "Palo Penitentes" has been usurped by the KKK, a group with white supremacist agenda in the late 19th and early 20th century.
"Hopefully, non-residents of Palo (especially fellow Christians) who encounter them especially on Good Friday may be reminded of the Lord's injunction to pray and offer sacrifices - more so today as we face the pandemic that has been around for more than a year," the Church said.
In the past, netizens and other travelers, "who have less knowledge of the history of Catholic popular piety" have mocked the group's traditional attire, likening it to the KKK in the United States.
The "Palo Penitentes" is an all-male confraternity of Roman Catholic Church devotees with about 400 members, half of them actively involved in this week's religious rites. The youngest member is 18 and the oldest is 70.
The highlight of the group's services is the re-enactment of the "Washing of the Feet" on Holy Thursday, the veneration of the Cross on Good Friday, and the station of the Cross on Black Saturday.
The group dons the medieval robe of the Penitentes of southern Spain with covered faces as a reminder of anonymity when it comes to praying and sacrificing for others.
"The inconvenience of wearing the long and heavy robes in a humid country like the Philippines underlines the sacrificial character of the activity," the archdiocese said.
In 1894, Spanish Franciscan priest Pantaleon de la Fuente, who served as parish priest of Palo from 1887 to 1898, introduced the Penitentes to add "dramatic" representation on the Holy Week's tradition of death and crucifixion of Jesus Christ.
"As an organized and officially recognized parish organization, the Penitentes of Palo portray the penitential mood of the parish and embody the penitential acts of all the parishioners. Each one does not only make a sacrifice for his own sake but like the Lord himself vicariously suffers for others," the Church stated.
"And so they remind others in the parish (and all the baptized elsewhere) that we have to make sacrifices for the sake of our families, communities, our country, and the world - in short, for others," it added. (PNA)