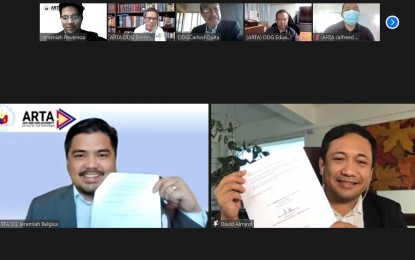 MANILA – The Anti-Red Tape Authority (ARTA) and the Multisys Technologies Corp. signed on Wednesday a memorandum of agreement for the development of a web application that will help speed up transactions and cut red tape in the government.
The GoSmartApp, set to be launched on April 22, 2021, is a donation of Multisys Technologies Corp. to ARTA.
With this, Director General Jeremiah Belgica underscored the benefit of having strong public-private partnership to deliver better services to the people.
"I think all donations should be done as fast as this or even faster, the partnership between government and private sector cannot be overstated," he said.
"A private-public partnership is not just desirable but necessary for us to achieve all the dreams and aspirations we have as a country. Hindi po kaya ng gobyernong mabuhay kung wala ang suporta ng taong bayan. Kung kaya ang teknolohiya na binibigay sa atin ng Multisys ay ang teknolohiya na di dapat palagpasin," he added.
For his part, Multisys Technologies Corp. founder and CEO David Almirol Jr. expressed his gratefulness to ARTA and assured the agency for his full support.
"The GoSmartApp will give a better decision-making tool and one way to create a more sustainable, and a cost-efficient system for the government, para maka tipid ho tayo at maiwasan ang korapsyon (so that we can save money and prevent corruption)," Almirol said.
Multisys Technologies Corp. is one of the software engineering firms in the country that is expert in creating web and mobile-based applications. Among the latest innovations of the company is the StaySafe.ph app that is designed for contact tracing. (PR)